TEMPE, Ariz. (AP) D.J. Foster had offers from some of the biggest programs in the country, more than 20 in all. When it came time to make a decision, he chose Arizona State so he could stay close to home. After his sister died of an accidental overdose a few years earlier, he just wasn't ready to be on his own. ''My family's been through a lot and I really wasn&...
D.J. Foster and Arizona State have put up some tremendous offensive numbers, but that doesn't mean coach Todd Graham is satisfied with his team heading into Pac-12 competition. Just think what the 16th-ranked Sun Devils might do if they finally play up to their potential. As Foster looks to have another big game on the ground, Arizona State tries to sharpen things up on both...
ALBUQUERQUE, N.M. (AP) D.J. Foster rushed for a career-high 216 yards to help No. 17 Arizona State rout New Mexico 58-23 on Saturday night. The Sun Devils (2-0) jumped out to a 22-0 first-quarter lead behind rushing touchdowns from Deantre Lewis, Taylor Kelly and Kalen Ballage. The Lobos (0-2) pulled within 29-21 with 4:49 left in the second quarter, but Arizona State scored two...
TEMPE, Ariz. -- D.J. Foster expected to finish in the end zone each time he touched the ball in Arizona State's season-opening win over Weber State. "That's just how I think," Foster said. "I expect a touchdown every time I touch the ball." Foster scored on two of his first 15 touches against Weber State, reaching the end zone on short runs from a few...
TEMPE, Ariz. -- For the third straight day Friday, Arizona State running back D.J. Foster dressed but did not participate in practice due to an undisclosed injury. Foster, who steps into a leading back role this season, has not practiced since Tuesday, the same day he skipped participating in a post-practice interview with the Pac-12 Network for its TV special on ASU because he did...
D.J. Foster ran for 124 yards and two touchdowns, and No. 13 Arizona State dismantled rival Arizona 58-21 Saturday night to earn home-field advantage in next week's Pac-12 championship game. Arizona State (10-2, 8-1 Pac-12) won last year's game by scoring 24 points in the fourth quarter and raced out to a 27-point lead by the midpoint of the second this time. After scoring...
CAMP TONTOZONA, Ariz. -- Arizona State running back D.J. Foster was having a banner day in front of roughly 5,300 fans on hand to watch the Sun Devils scrimmage in their final practice at Camp Tontozona. He then sent a good deal of the crowd into minor panic, going down and not coming up after a carry before being helped off the field with a left ankle injury. Foster turned out...
TEMPE, Ariz. D.J. Foster smiled as the idea of facing KaDeem Carey saturated his thoughts. Foster understands the implications of Friday's Territorial Cup game for both programs. A win over Arizona on Friday in Tucson would give Arizona State some momentum heading into the offseason on a two-game winning streak, while stealing any steam the Wildcats built up with their first...
TEMPE, Ariz. -- The book appears to be out on Arizona State's offense. For the last two weeks, ASU has struggled to establish tempo and rhythm. That's a product of good defenses but also of teams keying on top playmakers, including standout freshman running back D.J. Foster. After getting just seven touches in ASU's loss to Oregon State on Nov. 3, Foster had a season...
TEMPE, Ariz. -- With a few different twists and turns, Arizona State freshman running back D.J. Foster might have lined up on the other side last Saturday in Berkeley, sporting the navy blue and gold of University of California. Or he might have not lined up at all. More than once ready to quit football altogether, Foster navigated a long, trying road to end up at ASU. There he...
MORE STORIES >>
College Football News

Delivered to your inbox

You'll also receive Yardbarker's daily Top 10, featuring the best sports stories from around the web. Customize your newsletter to get articles on your favorite sports and teams. And the best part? It's free!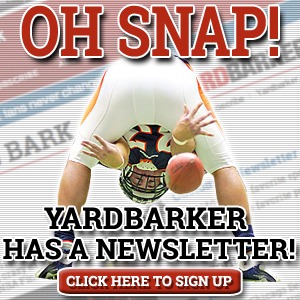 THE COLLEGE FOOTBALL HOT 10