TEMPE, Ariz. -- For the third straight day Friday, Arizona State running back D.J. Foster dressed but did not participate in practice due to an undisclosed injury. Foster, who steps into a leading back role this season, has not practiced since Tuesday, the same day he skipped participating in a post-practice interview with the Pac-12 Network for its TV special on ASU because he did...
(AP Photo)   According to a list on the best offensive trios in each major college football conference from NFL.com, ASU's Taylor Kelly, D.J. Foster and Jaelen Strong reign supreme in the Pac-12 conference. Kelly has been one of the most underrated quarterbacks in the country for the past two seasons, but led his team to an 8-5 record in his 2012 sophomore season and led the Sun...
TEMPE, Ariz. -- Three Arizona State football players were named to watch lists for the annual Maxwell and Paul Hornung awards. Junior running back D.J. Foster earned a spot on both award watch lists, while senior quarterback Taylor Kelly and junior wide receiver Jaelen Strong were selected to the Maxwell Award watch list. The Sun Devils' three representatives on the 76-player...
D.J. Foster ran for 124 yards and two touchdowns, and No. 13 Arizona State dismantled rival Arizona 58-21 Saturday night to earn home-field advantage in next week's Pac-12 championship game. Arizona State (10-2, 8-1 Pac-12) won last year's game by scoring 24 points in the fourth quarter and raced out to a 27-point lead by the midpoint of the second this time. After scoring...
CAMP TONTOZONA, Ariz. -- Arizona State running back D.J. Foster was having a banner day in front of roughly 5,300 fans on hand to watch the Sun Devils scrimmage in their final practice at Camp Tontozona. He then sent a good deal of the crowd into minor panic, going down and not coming up after a carry before being helped off the field with a left ankle injury. Foster turned out...
Very few players have ever began their collegiate careers at Arizona State with the level of expectations D.J. Foster was faced with when he arrived on campus last fall. Even fewer have actually met and exceeded those expectations, but Foster did exactly that. Not only did he lead the Sun Devils in all-purpose yards but he was also named to the Freshman All-American Team.
TEMPE, Ariz. -- The book appears to be out on Arizona State's offense. For the last two weeks, ASU has struggled to establish tempo and rhythm. That's a product of good defenses but also of teams keying on top playmakers, including standout freshman running back D.J. Foster. After getting just seven touches in ASU's loss to Oregon State on Nov. 3, Foster had a season...
TEMPE, Ariz. -- With a few different twists and turns, Arizona State freshman running back D.J. Foster might have lined up on the other side last Saturday in Berkeley, sporting the navy blue and gold of University of California. Or he might have not lined up at all. More than once ready to quit football altogether, Foster navigated a long, trying road to end up at ASU. There he...
D.J. Foster could not have dreamt for a better collegiate debut than what he had last Thursday versus Northern Arizona. The true freshman from Scottsdale Saguaro High School had 106 total yards and scored a touchdown as well in his first ever game for the Sun Devils. Devils Digest's Alissa Parten talked to Foster about that contest and the team's preparations for the Illinois...
TEMPE, Ariz. -- There was a lot to look for in Arizona State's season opener against Northern Arizona on Thursday night, but by the time ASU walked off the field with a 63-6 win, it was hard not to notice just how much the team's youth played a part in the victory. The Sun Devils played seven true freshmen in Thursday's game, including two starters, and for will continue...
MORE STORIES >>
College Football News

Delivered to your inbox

You'll also receive Yardbarker's daily Top 10, featuring the best sports stories from around the web. Customize your newsletter to get articles on your favorite sports and teams. And the best part? It's free!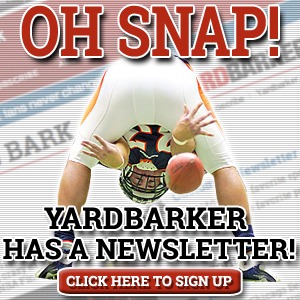 THE COLLEGE FOOTBALL HOT 10