Scott Shafer has had some rocky starts to his tenure at Syracuse. He named fifth-year transfer Drew Allen as his starting quarterback to begin last season. That lasted only two weeks because Allen was so ineffective. Shafer changed his mind amid public pressure and decided to let the younger, inexperienced Terrel Hunt lead the team under center. This season the team has been mired...
Coming out of high school in San Antonio, Texas, Drew Allen had all the tools to succeed as a college quarterback: he was 6-foot-5 and 210 pounds, could throw a ball 70 yards while standing flat-footed, ran a 4.7-second 40-yard dash, bench-pressed 265 pounds, squatted 345, had a vertical leap of 29 inches, and excelled in the classroom. Add in his affable demeanor, and he's...
Coming off the heels of one of the worst performances in recent memory (and beyond), the Syracuse Orange may have just opened up the quarterback competition again. Per Tim Lester, both Terrel Hunt and Drew Allen are getting first-team reps in practice. "They both have been getting reps with the ones just because we have to keep them both ready," Lester said. "Terrel...
Syracuse head coach, Scott Shafer, has thrown his support behind Drew Allen despite the new quarterback's underwhelming debut in the narrow defeat to Penn State in the season's opening game. But, while the season may not have started as the Orange faithful would have liked, the sports betting still appears to suggest Syracuse will be […]
Drew Allen looks in over his head. The Wildcats defense completely befuddled him, and Allen has now thrown 6 picks in 2 starts. Not sure Terrel Hunt is quite as good as that touchdown drive he led late, but he can't be a worse option than Allen right now, can he? Not to get too far ahead of ourselves here, but the math is not good for Syracuse to get to a bowl game after the 0...
Drew Allen tried to take responsibility for this one. His coach was having none of it. Allen threw four interceptions and the defense got plowed through and passed over, leading to one ugly 48-27 loss to No. 19 Northwestern for Syracuse on Saturday. ''Everyone is going to point at the quarterback position,'' coach Scott Shafer said. ''But (darn it), it was...
The first game of the Drew Allen era at Syracuse is in the books, and it was, interesting, to say the least. The offense struggled to move the ball, only scoring touchdowns after a 55-yard pass and a long interception return set them up with extremely short fields. Even then, the Orange could only score on running plays. Allen finished the game just 16/37 for 189 yards, which is...
Drew Allen's first start for Syracuse began well, completing his first five passes and showing off the strong arm that had Orange fans excited about the transfer for Oklahoma. From there, he was spotty, throwing a couple of interceptions and finishing 16 of 37 for 189 yards as the Orange lost 23-17 to Penn State on Saturday. Allen hasn't made Syracuse fans forget Ryan Nassib...
Drew Allen is starting at quarterback for Syracuse against Penn State. Allen and Terrell Hunt competed for the starting job through preseason practice and new coach Scott Shafer decided to keep his starter a secret until the Orange offense took the field in the opener. Allen is a graduate transfer from Oklahoma and a former blue chip high school prospect. The senior was 18 for 30...
Anxiety may the word to describe the feeling of Syracuse's preseason heading into the fall. Scott Shafer heads a brand new staff with a group of unproven players in the ACC. There are position battles left and right, including defensive line and wide receiver. The quarterback competition is still a mystery. The Orange opens up against a very good football team, and an age old rival...
MORE STORIES >>
College Football News

Delivered to your inbox

You'll also receive Yardbarker's daily Top 10, featuring the best sports stories from around the web. Customize your newsletter to get articles on your favorite sports and teams. And the best part? It's free!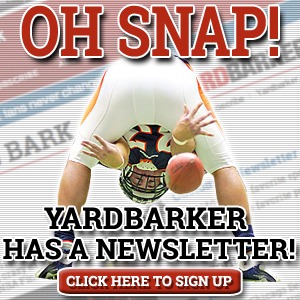 THE COLLEGE FOOTBALL HOT 10