Georgia Tech vs. Miami may not have always seemed like a crucial match-up in the crazy ACC Coastal. However, with the Yellow Jackets at 4-0, and the Hurricanes coming off of a big win against defending division champion Duke, this weekend's game has some real juice. The ACC Digital Network is prepping for the game, and has created a very dramatic hype video for Miami's trip to...
ATLANTA (AP) Georgia Tech coach Paul Johnson doesn't think his team is too excited about its successful start. It's been 10 days since the Yellow Jackets (4-0, 1-0 Atlantic Coast Conference) rallied for an upset win at Virginia Tech, and Johnson still sees plenty of mistakes that need correcting. Those concerns come more into focus with Miami (3-2, 1-1) visiting this weekend...
Miami Gardens, Fla. — The Canes defeated Duke last Saturday night 22-10. Here's how the Hurricanes graded out: MIAMI RUN GAME VS. DUKE RUN DEFENSE: Duke Johnson posted a season-high 155 yards and a touchdown. He was close to making house calls on several carries if it wasn't for shoestring tackles. Freshman Joe Yearby added 61 rushing yards. As a team, Miami averaged 5 yards...
MIAMI GARDENS, Fla. -- University of Miami junior running back Duke Johnson continues climbing the ranks of all-time greats in program history. In Saturday night's 22-10 victory over Duke, Johnson became the third player to surpass 4,000 all-purpose yards. He also went ahead of Graig Cooper for fifth on the rushing list with 2,393 running yards. Asked afterward what he thought...
 On the night the 1994 National Championship team celebrated their 20th anniversary, the 2014 Huskers team looked liked the 1994 Huskers team. The GoodNebraska running game. The Huskers have always been known to run the football under legendary coach Tom Osborne. The Big Red Machine is back.The Huskers rushed for 343 yards and Abdullah averaged nearly seven yards per carry as...
Twitter/@DukeJohnson_8 Miami bounced back from an ugly season opener loss to Louisville with a 41-7 win over Florida A&M last week, but plenty of questions remain in Coral Gables. Brad Kaaya continues to be shaky under center for the Hurricanes, and was replaced by senior transfer Jake Heaps after an up-and-down 177 yard, two touchdown, two interception outing against the Rattlers...
CORAL GABLES — Duke Johnson has always had the flash. A 5-star recruit, the speedy Johnson rushed for 1,957 yards and scored 36 total touchdowns during his senior season at Miami Norland en route to a Class 5A state championship in 2011. The explosive University of Miami running back/kick returner then posted arguably the greatest freshman season in school history in 2012, before...
CORAL GABLES, Fla. -- An orange No. 8 jersey raced toward the end zone untouched during money drills Wednesday afternoon at the Greentree Practice Fields. Junior Duke Johnson resembled his All-ACC persona -- a welcome sight for both the University of Miami football program and its fans. And yet there were a few minor differences: a blue facemask visor and the extra muscle on his...
GREENSBORO, N.C. -- Miami -- or "The U", as it is more popularly known -- is still not back. Junior running back Duke Johnson wants to make that clear. "I don't see why we can say we're back. We don't have a reason to say that," Johnson said. "We've been in the ACC for 10 years and we haven't been to the ACC Championship once. We haven...
University of Miami sophomore running back Duke Johnson will miss the remainder of the season with a fractured right ankle, a team official confirmed prior to head coach Al Golden's teleconference Sunday afternoon. Golden said Johnson will have surgery this week. "I feel badly for the young man, for any of these young people that get injured," Golden said. "Phillip...
MORE STORIES >>
College Football News

Delivered to your inbox

You'll also receive Yardbarker's daily Top 10, featuring the best sports stories from around the web. Customize your newsletter to get articles on your favorite sports and teams. And the best part? It's free!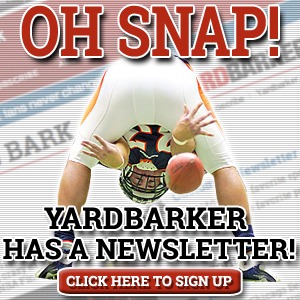 THE COLLEGE FOOTBALL HOT 10