CORAL GABLES, Fla. (AP) Duke Johnson hardly ever shows his emotions. Those around Miami's star running back, they aren't hiding anything right now. His girlfriend is so afraid of flying that she's been nervous for months about getting on a plane for his comeback game, but insists missing Johnson's return is not an option so she's going to grit her teeth and board...
Junior RB Duke Johnson It's a pivotal season for Al Golden and the Miami Hurricanes. Every year the question at the beginning of the season gets asked: "Is the U back?" And every year, since the move to the ACC, the answer has been a resounding "No." Some fans and alumni are starting to get restless with both Golden and Mark D'Onofrio, the defensive coordinator, and progress...
It's by no means an easy task, especially with defending national champion Florida State sure to reach the title game. But should everything fall into place with a little bit of help and overachieving, the unranked Miami Hurricanes could meet their rivals in Charlotte and compete for their first Atlantic Coast Conference championship. Preseason polls have picked UM to win the...
CORAL GABLES — Duke Johnson has always had the flash. A 5-star recruit, the speedy Johnson rushed for 1,957 yards and scored 36 total touchdowns during his senior season at Miami Norland en route to a Class 5A state championship in 2011. The explosive University of Miami running back/kick returner then posted arguably the greatest freshman season in school history in 2012, before...
CORAL GABLES, Fla. -- An orange No. 8 jersey raced toward the end zone untouched during money drills Wednesday afternoon at the Greentree Practice Fields. Junior Duke Johnson resembled his All-ACC persona -- a welcome sight for both the University of Miami football program and its fans. And yet there were a few minor differences: a blue facemask visor and the extra muscle on his...
CORAL GABLES — The Miami Hurricanes open up fall camp at 2:20 p.m. Tuesday under Coach Al Golden. Here are five storylines to keep an eye on as camp progresses, leading up to Miami's Labor Day season opener at Louisville in an 8 p.m. ESPN game: 1. Who will emerge as the 'Canes' starting quarterback — will it be former BYU and Kansas senior Jake Heaps? Will senior Ryan Williams...
GREENSBORO, N.C. -- Miami -- or "The U", as it is more popularly known -- is still not back. Junior running back Duke Johnson wants to make that clear. "I don't see why we can say we're back. We don't have a reason to say that," Johnson said. "We've been in the ACC for 10 years and we haven't been to the ACC Championship once. We haven...
University of Miami sophomore running back Duke Johnson will miss the remainder of the season with a fractured right ankle, a team official confirmed prior to head coach Al Golden's teleconference Sunday afternoon. Golden said Johnson will have surgery this week. "I feel badly for the young man, for any of these young people that get injured," Golden said. "Phillip...
CaneInsider has learned from a source close to the player that Miami Hurricane running back Duke Johnson will miss the remainder of the football season with an ankle injury.  The severity of the injury is unknown, however, a source confirms to CaneINsider that Johnson will be 'out for the season.'  The injury was suffered during the Miami Hurricanes Saturday November 2nd contest...
Duke Johnson set the tone for the game with a 38-yard reception on the Hurricanes' first play from scrimmage. In the first quarter, he became the 39th 1,000 yard rusher in Miami Hurricanes' history. Then he set a new career-high of 187 rushing yards in a game. He broke his previous record of 176 yards with a run in the third quarter and the Hurricanes beat the Florida Atlantic...
MORE STORIES >>
College Football News

Delivered to your inbox

You'll also receive Yardbarker's daily Top 10, featuring the best sports stories from around the web. Customize your newsletter to get articles on your favorite sports and teams. And the best part? It's free!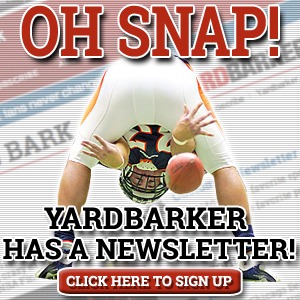 THE COLLEGE FOOTBALL HOT 10