NASHVILLE, Tenn. (AP) Dylan Thompson threw for 237 yards and three touchdowns, and he ran for another score as No. 14 South Carolina rallied from 14 points down Saturday night to beat Vanderbilt 48-34. South Carolina coach Steve Spurrier now has 202 Southeastern Conference wins, breaking a tie with Vince Dooley and putting him second only to Paul ''Bear'' Bryant...
COLUMBIA, S.C. (AP) Dylan Thompson understands he must learn to temper his emotions, even in the midst of one of his biggest successes as South Carolina quarterback. Thompson was admonished by South Carolina coach Steve Spurrier for his part in a way-too-early sideline celebration in the fourth quarter with the Gamecocks up 38-28 on top-10 Georgia last week. Despite a late charge...
This was a pretty good game. Georgia vs. South Carolina in Columbia a place where the strange often happens and Saturday's game was no exception.After a 1hr 15min delay because of storms in the area, both teams came out swinging and never stopped.The Gamecocks rode 3 TD passes by Quarterback Dylan Thompson and 93 yards on the ground by Brandon Wilds and held on for a 38-35 win...
The South Carolina football team will be looking to get back to its winning ways this Saturday at 7 PM, as they host the East Carolina Pirates on ESPNU. South Carolina opened its 2014 season with an utterly humiliating and historic 52-28 loss to Texas A&M, giving up a school record 680 yards, 511 of which were through the air (also a school record). Needless to say, the shock...
South Carolina has its first points of the 2014 season, and they came on a 69-yard touchdown pass. Trailing, 10-0, the Gamecocks got on the scoreboard when quarterback Dylan Thompson found wide receiver Nick Jones streaking down the middle of the field.  Here's the play:  Texas A&M opened up the scoring with a one-yard touchdown rush by running back Tra Carson. The Aggies...
Photo posted on Twitter by Dylan Thompson The South Carolina Gamecocks had a great 2013 season, finishing 11-2 including wins over five top 25 opponents. For QB Dylan Thompson though, it wasn't a great season. In 2012, Thompson had 10 TD versus 2 INT and had his best two games at the end of the season against rival Clemson and against Michigan in the Outback bowl.  ...
It's not often that South Carolina's Williams-Brice Stadium finds itself covered in snow — Columbia averages less than two inches of snowfall annually. But the area has been blanketed with the cold stuff recently, so the Gamecocks have exactly that on their hands: a very snowy field to practice on. Fortunately for the fans, the players aren't dissuaded by the cold and snow...
Time for Dylan Thompson to shine as South Carolina football coach Steve Spurrier has pretty much given the keys to the Gamecocks offense to Mr. Thompson. Barring some type of health setback between now and the beginning of September, it will be "Dylan's team."  Speaking at a South Carolina men's basketball game last Saturday, head coach Steve Spurrier stated, "[Dylan...
Following a heart-breaking 41-30 defeat in Sanford Stadium at the hands of an explosive Georgia Bulldogs team, the Gamecocks, once again, seem to be unable to catch a break. Despite beating Georgia the past two years, the Bulldogs have gone on to the SEC Championship game. Finally, in a year in which the Gamecocks have a favorable schedule, a win against the Dawgs in Athens would...
TAMPA, Fla. -- Dylan Thompson came off the bench to throw a 32-yard touchdown pass with 11 seconds remaining Tuesday, giving No. 11 South Carolina a 33-28 victory over No. 19 Michigan in the Outback Bowl. Thompson replaced Connor Shaw during the winning drive, covering the final 43 yards after the Gamecocks' starter began the march from his own 30. Devin Gardner's third...
MORE STORIES >>
College Football News

Delivered to your inbox

You'll also receive Yardbarker's daily Top 10, featuring the best sports stories from around the web. Customize your newsletter to get articles on your favorite sports and teams. And the best part? It's free!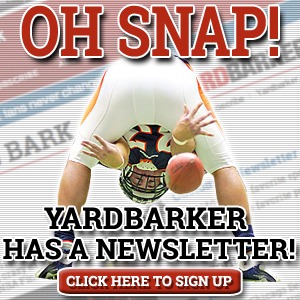 THE COLLEGE FOOTBALL HOT 10