I don't like teams who just draft players because of workouts and measurables, especially quarterbacks. Listen closely to the Bills reasoning behind drafting Manuel. Bills coach Doug Marrone revealed in an interview with Sirius XM NFL Radio that Manuel impressed Buffalo's brass by throwing the ball well during an extremely windy thunderstorm at a private workout in Tallahassee...
TALLAHASSEE, Fla. Erik Manuel had mentioned to his son that he was close to accomplishing something special, a feat that no other Florida State quarterback had ever done. EJ Manuel is already 3-0 in bowl games. And while he didnt start the 2010 Chick-fil-A Bowl win over South Carolina, he relieved the injured Christian Ponder after halftime and led Florida State to a win. Manuel...
CRUNCH TIME
FSU overcame the 13-0 Gator lead to be in complete control of the rivalry game. All of the momentum was in Florida State's favor and then this happened. Antonio Morrison who came in for Jelani Jenkins, absolutely crushed quarterback EJ Manuel and UF recovered the ball. On the next play, UF running back Mike Gillislee ran it in for over a 35 yard touchdown run. EJ was okay but he...
LSU, West Virginia, Georgia, Texas, and Louisville all got more than they bargained for in week 5 (photo credits clockwise from top left: Getty/ Aller, Revere, Cunningham; AP/ Solis; Getty/ Deering) Tailgater Top 25 Rankings, Week 5 If you were looking for some clarity in week 5, forget it. This should have been an easy week for some of the supposed big boys; South Carolina, Florida...
This Week in College Football, 9/29/12 The one thing the BCS committee did not want to see before going to a new playoff format in 2014 could be unfolding in front of their eyes this year, as there could be three undefeated and highly powered teams for the two spots in the National Title game in Miami, January 7, 2013. Which one of these three teams - Alabama, Florida State...
TALLAHASSEE, Fla. Florida State quarterback EJ Manuel said he feels 100 percent healthy after rolling his ankle last week in practice. It was just basically an ankle sprain, just like you would roll your ankle in basketball coming down from a rebound, Manuel said. Im fine. Ive dealt with worse. A sprain aint going to hold me back at all. Manuel has played through thumb, shoulder...
If the ACC isnt the most quarterback-heavy conference going into the 2012 college football season, then it is certainly the most experienced. Eleven of the 12 programs return starting quarterbacksand the lone new starter is not exactly green to live action. Ranking the signal callers isnt easy, as from one week to the next eight or nine of these players can post impressive numbers...
TALLAHASSEE, Fla. Nearly eight weeks after one of the best comebacks of quarterback EJ Manuel's career, Florida State officials announced that he fractured his fibula in the Champs Sports Bowl victory over Notre Dame. Manuel was seen limping on his left leg during the third quarter of the Dec. 29 game. The fibula is not a weight-bearing bone, which is why Manuel was able to...
MORE STORIES >>
College Football News

Delivered to your inbox

You'll also receive Yardbarker's daily Top 10, featuring the best sports stories from around the web. Customize your newsletter to get articles on your favorite sports and teams. And the best part? It's free!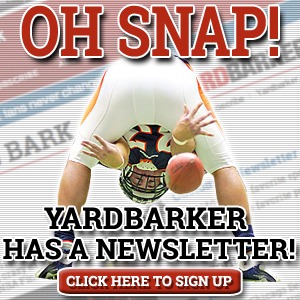 THE COLLEGE FOOTBALL HOT 10