North Carolina football apparently thinks quite highly of its wide receivers.  The team's top pass catcher from 2013, Eric Ebron, is gone to the NFL, but a number of the Tar Heels' top wideouts are back for the upcoming season.  Check out this sign standing outside the North Carolina wide receivers' room at the Kenan Football Center.  Look what I spotted outside the WR...
Report on TarHeelsIllustrated.com, North Carolina TE recruit Avery Edwards was arrested and charged with theft and larson.  According to a report in the Raleigh News and Observer, Edwards has been charged with the theft of five watches and one pair of diamond stud earrings, valued at approximately $53,000.  Edwards most certainly was looking to build upon the success of who...
ALLEN PARK, Mich. -- Eric Ebron, the Detroit Lions' first-round draft pick, was entering his junior year of high school and hadn't played football since he was around 10 years old. He'd given it up after his grandfather died, sending him into a state of depression for a few years. It took his mother, Gina Jackson, and the football coach, Rodney Brewington, at his new...
For the most part I have never taken the homer attitude when writing a post about the University of North Carolina at Chapel Hill. This is going to be one of those rare exceptions to the rule. Many have been calling the academic standards at UNC very bad, many local newspapers have taken the war path attacking UNC basketball and football in anyway they can when it comes to academics...
Seth Littrell is expected to be officially announced as the next offensive coordinator at the University of North Carolina later this week. Multiple sources, including CBS Sports and Inside Carolina, have reported that North Carolina and head coach Larry Fedora are finalizing the hiring of Seth Littrell to become their next offensive coordinator. Littrell, 35, has spent the past...
North Carolina offensive coordinator Blake Anderson remains in the running for the head coaching vacancy at Arkansas State. On Wednesday afternoon, several conflicting reports surfaced regarding North Carolina's current offensive coordinator Blake Anderson and the head coaching vacancy at Arkansas State University. According to reports by FootballScoops.com, Anderson "will be...
Eric Ebron's athleticism has drawn comparisons to Vernon Davis. But now, the North Carolina tight end has one up on the NFL Pro Bowler. Ebron hauled in a 17-yard pass from Marquise Williams in the second quarter Saturday against North Carolina to break Davis' ACC single-season record for receiving yards by a tight end. Ebron now owns the ACC single-season record for yards...
CHAPEL HILL, N.C. -- North Carolina junior tight end Eric Ebron said Monday he'll enter the NFL draft after the season. Ebron has 50 catches for 774 yards and three touchdowns for the Tar Heels (6-5, 4-3 Atlantic Coast Conference) heading into Saturday's home finale against No. 24 Duke. Ebron said Monday the move would benefit his family and he didn't want to linger...
If you had the want, or maybe better said, the courage, to navigate through UNC Football web boards the posts have not been very pleasent. Actually, ugly would describe the posts a lot more. Most of them focusing on the comments made by A.J. Blue after the game, or the mistakes made by both the coaching staff and the players, and of course the "how many wins will this team have"...
And you know what that means… ALL BLACK ALTERNATE UNIFORMS! Image via Eric Ebron on Instagram Recently North Carolina tight end Eric Ebron shared the image on the right on his Instagram account. Judging by the graphic the Tar Heels will be looking to encourage all fans to dress in black when they take on the Miami Hurricanes in mid-October. While there currently is no visual evidence...
MORE STORIES >>
College Football News

Delivered to your inbox

You'll also receive Yardbarker's daily Top 10, featuring the best sports stories from around the web. Customize your newsletter to get articles on your favorite sports and teams. And the best part? It's free!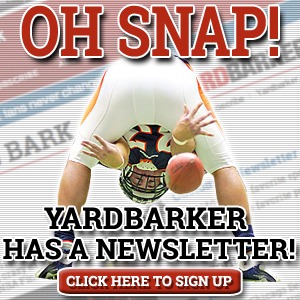 THE COLLEGE FOOTBALL HOT 10