The post Golson: Notre Dame rallying around loss of players appeared first on NCAA Football Zone.
After news broke of 4 Notre Dame players being under investigation for academic dishonesty, Fighting Irish QB Everett Golson shared that he believes his team will rally and be even closer as a program. Perhaps he is sharing from experience as he was absent from the program last season due to his own academic issues. QB Everett Golson, speaking on the Irish's suspended foursome...
Notre Dame head football coach Brian Kelly said he's "shocked" and "disappointed" after learning about the internal academic fraud investigation into four of his players. "I'm disappointed, I'm saddened in a way for these young men, because they're good kids," Kelly said via ESPN.
Everett Golson was named as the starting quarterback for Notre Dame by Brian Kelly today after practice. Everett Golson addressing the media as the Irish's official starting Qb pic.twitter.com/nKQ8CscqYE — Notre Dame on NBC (@NDonNBC) August 13, 2014 Comically, people (mostly reporters and zealous fans) lost their minds and took to the internet, newspapers, and television...
Are you really surprised by Chip Kelly naming Everett Golson as his Opening Day starting QB?  Neither were we by the decision to name Golson the starter.  The Junior signal caller missed the entire 2013 season due to academic suspension–hence why they are called student athletes and not athletes students, but that is for another day. Coach Kelly shared with Blue and Gold that...
Notre Dame officially has a starting quarterback for 2014. On Wednesday, head coach Brian Kelly announced Everett Golson will get the nod. Golson helped lead the Fighting Irish to the 2012 BCS national championship game before missing the 2013 season due to an academic suspension. Sophomore Malik Zaire was also in the running for the starting QB spot, but most anticipated Golson...
Everett Golson has come full circle since being dismissed from Notre Dame almost two-years ago. The guy mostly responsible for leading the Fighting Irish to the National Championship game against Alabama in 2012 has regained his position as Notre Dame's starting quarterback. Brian Kelly made the announcement he is now the starter. "There was competition up until I made the decision...
Brian Kelly has named Everett Golson their starting quarterback in their opener against Rice. The last time Golson was under center for Notre Dame was in the 2013 BCS National Championship Game Notre Dame says Everett Golson will start at QB. http://t.co/FFhSu2jvH4 — Sun-Times Sports (@suntimes_sports) August 13, 2014 Everett Golson addressing the media as the Irish's official...
The Notre Dame Fighting Irish have their quarterback again. Head coach Chip Kelly announced on Wednesday that Everett Golson has been named the team's starting quarterback for the 2014 season, for now that is. "When you look at making that decision, I'm using from January through right now as the basis of that decision. Winter […]
Notre Dame football has a long tradition of winning. You may remember 1988 like I do, or you may have to be over hundred years old to remember the great teams. A couple years ago they did make it to the BCS title game, but even die-hard fans believed they didn't belong. They were over matched and ran over. The following season reported that their hero quarterback was suspended...
MORE STORIES >>
College Football News

Delivered to your inbox

You'll also receive Yardbarker's daily Top 10, featuring the best sports stories from around the web. Customize your newsletter to get articles on your favorite sports and teams. And the best part? It's free!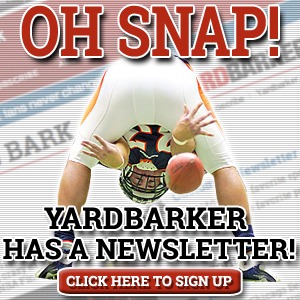 THE COLLEGE FOOTBALL HOT 10