After a stunning and controversial loss last week, Notre Dame football will get to take the week off to assess the rest of the season. The bye week couldn't have come at a better time, because I am sure Notre Dame nation was on an emotional rollercoaster last Saturday night. Although Notre Dame lost last week, the College Football world has been raving about the way the Irish dominated...
Like many Notre Dame fans, Fighting Irish coach Brian Kelly is not happy with how Saturday night's game against Florida State ended. On fourth down from the Seminoles' two yard line, Notre Dame QB Everett Golson threw what appeared to be the game-winning touchdown pass to WR Corey Robinson. However, the officials called an offensive pass interference penalty, which negated the...
On fourth down from the two yard line, Everett Golson found a wide open Corey Robinson for what appeared to be a game winning Notre Dame touchdown. Unfortunately for the Irish, the referees called for a pass interference on Notre Dame's William Fuller  on the play, pushing the Irish back 15 yards and forcing them to repeat fourth down. Golson was hit on the ensuing throw, and...
Notre Dame's Everett Golson just led the Irish on a huge go-ahead touchdown drive to put his team up 24-17 against Florida State in Tallahassee, but Irish fans have to be holding their breath. After the touchdown, Golson was seen favoring his leg, and headed into the locker room. Luckily, he's returned to the sideline, but sophomore quarterback Malik Zaire has been warming up...
John David Mercer-USA TODAY Sports Despite falling victim to Dak Prescott and the top-ranked Mississippi Bulldogs in this week's polls, Florida State (6-0) still has a target on it's back as the defending national champions, and on Saturday night, the second-ranked Seminoles will welcome the Notre Dame Fighting Irish (6-0) to Tallahassee for the weekend's biggest showdown and...
The two best starting quarterbacks in college football will square off in Tallahassee, Fla. Saturday night. That's what ESPN analyst Kirk Herbstreit thinks, anyway.  Jameis Winston, Florida State's signal caller and the 2013 Heisman winner, and Everett Golson, who is in his second season leading Notre Dame, are the country's two premier quarterbacks, according to Herbstreit...
EDITOR'S NOTE: Mike Ferguson is the editor of Bloguin's Florida State site, Noled Out. This piece is re-posted from Noled Out. Find much more Notre Dame-Florida State coverage from Noled Out and Bloguin's Notre Dame site, Subway Domer. * On November 13, 1993, Florida State and Notre Dame played in a contest dubbed, "The Game of the Century." Behind Heisman Trophy-winning...
Notre Dame Head Football Coach Brian Kelly can deny or make excuses for the sudden error prone football his quarterback Everett Golson is making. But deep down, you know Kelly and the rest of his offensive coaching staff are worried as they head into this season's biggest game Saturday. Golson has turned the ball over eight times the past three games. Of those turnovers, three...
In a week when Notre Dame football expected to get a ruling on the 5 suspended players, instead the Irish got big news of an Elite 11 quarterback who committed. The number 71 overall prospect in the 2015 class, Brandon Wimbush had already committed to Penn State, but he had a change of heart and switched to Notre Dame football earlier this week. Brandon Wimbush is already being crowed...
For the first 58 minutes and 59 seconds of Saturday's slippery, sloppy slog between Notre Dame and Stanford, Everett Golson looked nothing like the player who took command of the Fighting Irish's offense in the first two games of the season against Rice and Michigan. Golson, whose 2013 season was wiped out due to his own personal mistakes, began this season with the focus and...
MORE STORIES >>
College Football News

Delivered to your inbox

You'll also receive Yardbarker's daily Top 10, featuring the best sports stories from around the web. Customize your newsletter to get articles on your favorite sports and teams. And the best part? It's free!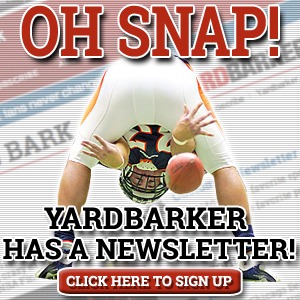 THE COLLEGE FOOTBALL HOT 10