When Everett Golson returned to South Bend there were some that wondered if the team would not be better off just going young and giving Malik Zaire the reigns of the offense instead. Yes, Golson had been at the helm during the team's run to the BCS Championship title game, but as head coach Brian Kelly noted the defesne was pretty stout that year.Golson got the nod and on Saturday...
This one should be exciting…no, really Why, oh why, does this rivalry have to end? When Michigan travels to Notre Dame this upcoming Saturday night, it will be the last time the two historic powers meet on the gridiron for quite some time – there are no more scheduled games between the programs. That is, of course, unless they somehow met in the postseason. The Irish head into...
Everett Golson put on a show in his first outing in over a year and a half throwing for 295 passing yards with 2 TDs. but that was not his whole day.  Golson also added 3 rushing TDs against a Rice team from Houston, TX.  Despite 5 Notre Dame players out due to an ongoing investigation on academic fraud, the rest of the team played with a focus and determination not to allow...
University of Notre Dame QB Everett Golson had plenty of time to get ready for the 2014 season. After being held out of football for over a year and a half due to academic violations, Golson showed that any worries of rust were eliminated. Golson and the Irish dismantled Rice's defense, racking up of total offense. Golson did it with his feet and his arm. He rushed for 41 yards...
There has been a lot of talk about whether Notre Dame was making the right call with putting Everett Golson back in charge of the Fighting Irish offense. Is he really the best player for the job? Was it more the defense a couple years ago and not him that led the team to the BCS Championshiop?Well--he's doing his best against the Rice Owls to prove he is the man going forward...
Notre Dame head coach Brian Kelly said during Wednesday's media session that Everett Golson is "taking next step of leadership." The 21-year-old Golson was banned from South Bend in May 2013 for cheating on a final exam and he wasn't readmitted to school until roughly six months later. Brawnier and weighing 200 pounds, the 6-foot Golson trained with quarterback guru George...
Notre Dame starting quarterback Everett Golson is another example of the curse of the #5 jersey. See: Paul Hornung, Manti Te'o, Chris Kluwe, Venric Mark, Braxton Miller, Josh Freeman etc. etc. etc. As ND is now embroiled in the middle of another academic scandal involving key players crucial to the team success, Everett Golson reflects on his situation. Golson discussed his return...
The post Golson: Notre Dame rallying around loss of players appeared first on NCAA Football Zone.
After news broke of 4 Notre Dame players being under investigation for academic dishonesty, Fighting Irish QB Everett Golson shared that he believes his team will rally and be even closer as a program. Perhaps he is sharing from experience as he was absent from the program last season due to his own academic issues. QB Everett Golson, speaking on the Irish's suspended foursome...
Are you really surprised by Chip Kelly naming Everett Golson as his Opening Day starting QB?  Neither were we by the decision to name Golson the starter.  The Junior signal caller missed the entire 2013 season due to academic suspension–hence why they are called student athletes and not athletes students, but that is for another day. Coach Kelly shared with Blue and Gold that...
MORE STORIES >>
College Football News

Delivered to your inbox

You'll also receive Yardbarker's daily Top 10, featuring the best sports stories from around the web. Customize your newsletter to get articles on your favorite sports and teams. And the best part? It's free!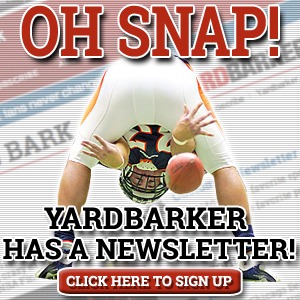 THE COLLEGE FOOTBALL HOT 10