Virginia Tech is only a couple of seasons removed from eight consecutive seasons of 10+ wins. Is longtime head coach Frank Beamer worried? Probably not. He's been around long enough not to let much bother him, but being the competitor that he is you know he wants to get back on top again.When he sees his guys make interceptions like this in practice he has to feel good about...
To raise awareness and join in the fight against ALS, Virginia Tech head coach Frank Beamer quite literally did something cool… or perhaps, cold. You can watch the fun here. Video courtesy of HokieSports.com.  
The Virginia Tech football team is lucky to have one of the best coaches to ever coach in college football. Frank Beamer has been amazing for them year in and year out. He's led them to 21 straight bowl appearances, which is a record, and he's had a lot of ten win seasons for Tech. He pretty much has the right to retire whenever he wants because Virginia Tech won't fire a...
Virginia Tech has been one of the ACC's most consistent programs under Frank Beamer's watch. The Hokies won at least 10 games in...
As the Sun Bowl approached last December, the reward for an 8–4 regular season, Virginia Tech coach Frank Beamer offered a rare moment of...
HOKEY HOAKIE
I don't care if I get chastised for posting another Harlem Shake video, because this one deserves it.  Check out VT's coach Frank Beamer dropping a little shimmy at the beginning of the video.  Do you Frank! [@corkgaines] Article found on: Cosby Sweaters
The Virginia Tech Football team already unveiled these helmets and now they are revealing these camouflage uniforms that will be uniforms against Bowling Green. I like Virginia Tech. Great school with a defense lead by Bud Foster. I can't root for a team that wears uniforms like this. Please tell me this is a joke by the Nike Blog. Please. The Nike Blog had this to say: The...
According to SBNation, the Virginia Tech Hokies actually plan to use these helmets this year during the 2012 football season. I'm sure everyone has a joke for this. I personally can't type all of them at once without laughing uncontrollably. I don't know what that shape is to be honest. Is it a sword from the Legend of Zelda? Is it V that would be a T if it were upside down...
 (Welcome to the Fallout is the SWRT off-season weekend wrap-up of college football related news.) United We Stand. Michigan head football coach Brady Hoke has managed to unite a Wolverine fan base fragmented by the three year head coaching stint of Rich Rodriguez in Ann Arbor. (The Detroit News)  Reading is Fundamental. Virginia Tech head football coach Frank Beamer...
Okay, maybe it's just me, but it certainly looks as if the female reporter, in this clip from Virginia Tech's post-game win over North Carolina Thursday night, win number 250 for Frank Beamer, gives the legendary head coach the brush-off. Take a look and judge for yourself: I don't know about you, but where I'm from that thing she did is called a "diss"...
MORE STORIES >>
College Football News

Delivered to your inbox

You'll also receive Yardbarker's daily Top 10, featuring the best sports stories from around the web. Customize your newsletter to get articles on your favorite sports and teams. And the best part? It's free!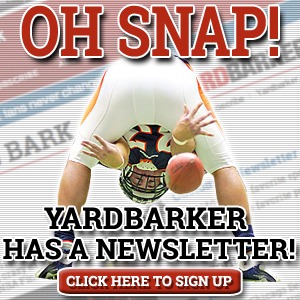 THE COLLEGE FOOTBALL HOT 10