Well, here we are again. No more idle weeks. Time for the Buckeyes to show the rest of the country how good they are. Rutgers will be our first victim. Heres what I and the rest of the staff want: A win: Duh. A big win: Double duh. Offense with 300 passing and 150 rushing: Balance baby. Defense baby: OSU has the fewest missed tackles among all power conferences. Keep it that way...
The #13/#13 Buckeyes  (4-1) host the Rutgers Scarlet Knights for their 2014 Homecoming Game. B1G newcomers Rutgers are also coming off an idle week at sit at  5-1 (1-1) going into Saturday's game. They bring a decent scoring defense, comparable to Ohio State's, and a decent scoring offense (29.5 PPG) into Saturday's game. Yes, this will be OSU's Homecoming and the Shoe...
PISCATAWAY, N.J. -- Gary Nova threw for a career-best 404 yards and three touchdowns and Rutgers added to slumping Michigan's woes with a 26-24 victory on Saturday night. Nova found Andrew Turzilli on scoring passes of 80 and 14 yards and hit John Tsimis with a 7-yarder as the Scarlet Knights (5-1, 1-1) won their first Big Ten Conference game and sent Michigan (2-4, 0-1) to its...
Maryland and Rutgers have surprised a few folks around Big Ten territory, especially those who have never paid attention to the two programs before this season. See, both enter Week 4 of the college football season as nearly undefeated teams. Imagine what we'd be talking about had the Terps beat West Virginia or Rutgers opened up Big Ten play with a home win over Penn State? Those...
Rutgers almost pulled off the upset against Penn State last weekend. Instead of celebrating their first Big 10 victory, the Scarlet Knights will have to regroup and prepare for their trip down 95 to take on a challenge with Navy. The Scarlet Knight defense could not hold on the lead and gave up 10 points in the 4th quarter. That wasn't the only reason for their loss. The offense...
Rutgers quarterback Gary Nova finally had a great game over a team other than Arkansas.Nova threw for 281 yards and two touchdowns for the Scarlet Knights in their 41-38 win over Washington State in Pullman. Nova's opponent Wazzou quarterback Conner Halliday threw for 532 yards and five touchdowns.The difference was Rutgers has a running game.  Paul James rushed for 179 yards...
Rutgers quarterback Gary Nova was forced to leave the Scarlet Knights game against Eastern Michigan in the first quarter with an undisclosed injury. Nova hit all four of his passes on a game-opening 87-yard touchdown drive. He also took a big hit that resulted in a roughing the passer call. Rutgers did not say why Nova left the game. He walked off the field with two staff members...
When Gary Nova was last seen on the football field in meaningful action, the Rutgers quarterback was a shell of the gunslinger that began his first season starting with so much promise. Nova was looking for answers after his late-season slump coincided with the Scarlet Knights dropping their final three games, including a 20-17 home setback to Louisville that cost them their first...
No. 45 Rutgers Scarlet Knights (9-4)Coach Kyle Flood (second year, 9-4 at Rutgers and overall)Returning starters: 11, 6 offense, 4 defense, 1 special teamsRecruiting rank: 41Strength of schedule: 75 The Rutgers Scarlet Knights are coming off a co-Big East Conference championship under second year Head Coach Kyle Flood who shared Big East Coach Of The Year honors with Louisville...
Gary Nova has been selected to be Rutgers' starting quarterback. Coach Kyle Flood announced the decision Monday, giving Nova the nod over Chas Dodd, who had started eight games as a sophomore last fall. A sophomore out of New Jersey high school football power Don Bosco Prep in Ramsey, Nova has enjoyed a strong training camp, hitting 22 of 32 passes for 334 yards, four touchdowns...
MORE STORIES >>
College Football News

Delivered to your inbox

You'll also receive Yardbarker's daily Top 10, featuring the best sports stories from around the web. Customize your newsletter to get articles on your favorite sports and teams. And the best part? It's free!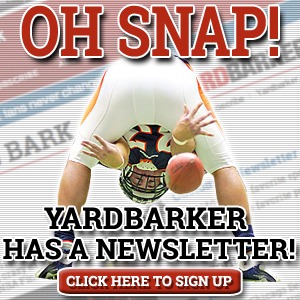 THE COLLEGE FOOTBALL HOT 10