Gavin Escobar is working hard this offseason, and he's ready to show that he can handle more of a workload for the Dallas Cowboys in 2014. Now, when we say "more of a workload" that doesn't necessarily mean in the passing game, because Escobar simply wants to help this team succeed in any way possible.Escobar was a second round pick by the Cowboys in 2013, and it...
The following is the 2nd in a series of draft profiles for the Dallas Cowboys' selected players from April's draft. These profiles are put together after watching significant amounts of game tape from each player, and is an attempt to examine their resumes and play to get an idea of how they might fit in best with Dallas come training camp in Oxnard this summer. Gavin Escobar...
The Cowboys throw another curveball and select TE Gavin Escobar, San Diego State. #47 pick, 2nd round. With depth at RB an issue and offensive line, this pick truly is stupid. I'm done predicting who we are going to draft, these guys have the weirdest bizarro board in the NFL. 8-8 or lower. Get us a damn RB!!! Murray can't stay healthy, and get us some depth at DE or DT! Dude, seriously  man.
Tyler Eifert probably won't be on the board, so who could be the second choice? Perhaps Gavin Escobar, who put up good numbers in the passing-impaired San Diego State offense.
The 2013 NFL Draft is fast approaching. Later this month the Kansas City Chiefs will kick things off, and get the first round started. I have been profiling guys that, for whatever reason, will slip a bit in the draft, but can become good pros when it is all said and done. These three guys are not going to be first round picks, but whichever teams do their homework and select these...
#88 Gavin Escobar, TE, San Diego State University (Junior) HGT: 6-5 WGT: 255  Gavin Escobar not only established himself as the best Tight End in the Mountain West this year, but as one of the best in the nation. The Junior Tight End has started in 30 games dating back to the 2010 season. This season Escobar hauled in 42 passes for 543 yards and 6 touchdowns. Over his 3 year career...
With prospects like Michael Williams of Alabama, Jordan Reed of Florida, Ryan Otten of San Jose State, and many more talented seniors, the tight end class is already shaping up to be a deep group. Combine that with other juniors yet to declare, and this class could play right into the NFL's desire to incorporate tight ends more in the offense. Adding to that is a mild surprise...
Post game press conference with San Diego State running back Adam Muema and tight end Gavin Escobar after defeating UNLV 24-13...
AztecReport.com caught up with San Diego State tight end Gavin Escobar at the Mountain West Football Media Day this past week in Las Vegas (Nev.). He discusses his offseason, how the offensive is looking, what the offense is trying to accomplish before Washington and much more!
San Diego State tight end Gavin Escobar's one-handed heroics as the Aztecs only effective receiver weren't enough to beat Wyoming.
MORE STORIES >>
College Football News

Delivered to your inbox

You'll also receive Yardbarker's daily Top 10, featuring the best sports stories from around the web. Customize your newsletter to get articles on your favorite sports and teams. And the best part? It's free!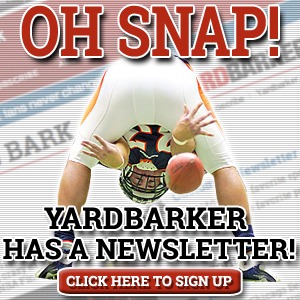 THE COLLEGE FOOTBALL HOT 10