Happy Presidents' Day kids! Highlight Monday is celebrating by honoring the greatest athlete to ever occupy the White House, President Gerald Ford. Ford's Michigan football career is mentioned prominently in almost any biography of the 38th President, but I always assumed his athletic abilities were exaggerated as part of a political narrative. Then I read more about...
Via UM media relations: Ford Recognized as Michigan Football Legend, Linebacker Morgan to Wear No. 48 Jersey ANN ARBOR, Mich. -- The University of Michigan Athletic Department officially recognized Gerald Ford as a Michigan Football Legend today (Oct. 13) during a pregame ceremony at the Michigan-Illinois football game. Sophomore linebacker Desmond Morgan (Holland, Mich...
The old is apparently becoming new again. The University of Michigan announced Tuesday that former President Gerald Ford's No. 48 jersey would be worn on the football field in 2012. Now, Michigan State athletic director Mark Hollis and head basketball coach Tom Izzo have reportedly discussed the possibility of playing a commemorative basketball game at Jenison Field House,...
Michigan will honor President Gerald Ford, shown above in his Michigan football playing days, and two others this season by activating their retired numbers. Photo via Ford Library Museum. The University of Michigan is bringing some retired numbers back in to the rotation, and using them to honor legendary Wolverines. The numbers 48, 47 and 97 will be worn by a player to be...
Kramer, Ford and Oosterbaan. Word spread quickly earlier today that former US President and UM football player Gerald Ford would be honored as a Michigan Football "Legend" at some point during the 2012 football season. Ford's #48 is currently one of five numbers currently retired by the program. Upon becoming a "Legend", Ford's number would go back...
Brady Hoke said one of his players will wear former President Gerald Ford's number 48 jersey this season. The former President's jersey is only one of five Michigan jerseys that have been retired. Ford was Michigan's MVP during his three years on the roster during the 1932-1934 seasons. He was a part of two national championships (32, 33). Interesting? I'd say so. How many...
Talk about the Presidential treatment. For one member of the 2012 University of Michigan football team, that's exactly what they'll be getting this fall, honoring former U.S. President Gerald Ford by donning his No. 48 jersey for the season. When Michigan made a decision to hang up the last of its five retired uniforms in 1994, Ford's No. 48 was among the immortalized...
Lacrosse All StarsWhere Is Lacrosse's Air Craft Carrier Game?Gerald Ford playing basketball on the USS Monterey I was watching the warm ups of the UNC-Michigan State basketball game on Veterans Day and, as you probably know, it was being held on an air craft carrier.  It was insanely cool.  I can't deny that.  But being that I have an extremely lacrosse-centric world view...
MORE STORIES >>
College Football News

Delivered to your inbox

You'll also receive Yardbarker's daily Top 10, featuring the best sports stories from around the web. Customize your newsletter to get articles on your favorite sports and teams. And the best part? It's free!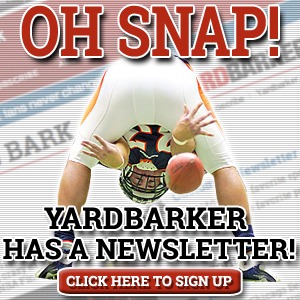 THE COLLEGE FOOTBALL HOT 10