Fine, I'll indulge in this. If for no other reason than to provide a post that is actually on the topic. Damn, the fact that Pitt basketball is off until Saturday! No puffs of smoke from the South Side indicating that any hirings have been made for the DC position. There are names drifting about, but it is also clear that no one is really sure how serious either side is in the gig...
Dana had an interview with the Canadian press on 2/20/2009 2:48:10   Asked if the GSP cornerman was cheating, White replied: "I think he (Nurse) was. I do. I think he absolutely, positively knew that he was rubbing grease on him. I do. Nobody can tell me different. I watched the tape a million times."   White says the greasing was "no different" than the illegal wraps discovered...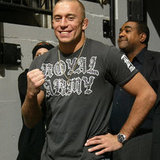 Yesterday, my cornermen Greg Jackson and Phil Nurse filed their response to BJ Penn's letter to the NSAC.  (If you want to read all 17 pages, you can download it from http://mmapayout.com/wp-content/uploads/2009/02/gsp-nsac-response.pdf.  We also gave the Commission a DVD showing the breathing technique used in the past - you can download it from http://www.box.net/shared/cfl37yh0la...
Roger Huerta is going to be training with Greg Jackson in anticipation for his fight with Kenny Florian. Kenny Florian is going to Roger's biggest test. Roger struggled against Clay Guida and barely pulled out a win, he's going to have to do a lot better than that to get past Kenny Florian.
When it was announced that Georges St-Pierre would step up on short notice to battle Matt Hughes for the interim welterweight title on Dec. 29, Greg Jackson, St-Pierre's coach and trainer, kicked into overdrive to make sure his fighter would be ready for the task at hand
With the growing popularity of the lighter weight classes, more and more fighters are starting to find the division that they excel in. The newest addition to that list will be Leonard Garcia, who is expected to drop to 145 pounds and move from the Ultimate Fighting Championship to compete in World Extreme Cagefighting's featherweight division, as confirmed to MMAWeekly.com by his...
MORE STORIES >>
College Football News

Delivered to your inbox

You'll also receive Yardbarker's daily Top 10, featuring the best sports stories from around the web. Customize your newsletter to get articles on your favorite sports and teams. And the best part? It's free!
THE COLLEGE FOOTBALL HOT 10