Gunner Kiel will look to prove many wrong after being very indecisive and finally making his choice to stay at the University of Cincinnati. (via cincinnati) Two years ago, quarterback Gunner Kiel became the laughing stock of college football after notoriously committing to Indiana, then leaving and committing to LSU, after that, he once again left and ended up at Notre Dame,...
CINCINNATI -- Gunner Kiel hasn't played in a real live, the final score counts, football game in three years. Saturday wasn't one of those games for Kiel but he was taking Cincinnati's spring game serious. He has the quarterback pedigree name and the background of being a highly-decorated recruit but when it comes to college football Kiel doesn't have much else. That...
CINCINNATI -- Gunner Kiel hasn't played in a football game in more than two years. He's anxious, to say the least. There are a lot of people anxious to see Kiel play. They know the name. They remember the prodigious stats Kiel produced at Columbus East High School in Columbus, Ind., the stats that made Kiel one of the top-rated and hotly recruited quarterbacks in the nation...
The news that Everett Golson is no longer enrolled at Notre Dame has left many people noting the poor timing (and luck) of Gunner Kiel, who decided to transfer to Cincinnati in April. Kiel was a top quarterback recruit entering college. He initially committed to Indiana and then LSU before backing out and deciding to [...]
Visiting numerous campuses and fielding offers from multiple programs, bipolar quarterback Gunner Kiel continues seeking a new college to call home. Since kneeling to starter Everett Golson and transferring out of out of Notre Dame last month, the 6-foot-4, 210 pound Kiel has been contacted by Cincinnati, Ole Miss, Mississippi State, Kansas State, Tennessee, Ball State, Northern...
Quarterback Gunner Kiel is leaving Notre Dame without ever playing a down. Notre Dame coach Brian Kelly announced Tuesday that the former standout from Columbus, Ind., who was one of the top-rated quarterbacks coming out of high school a year ago, plans to transfer. He was the scout team quarterback his freshman season as the Irish went 12-1 and finished the season ranked No. 4...
In another strange twist in the Gunner Kiel saga, Notre Dame football announced that the freshman quarterback is set to transfer from the school. Somewhere in Baton Rouge, Les Miles is smiling. You might recall Kiel's commit-decommit happy recruitment phase, where he initially committed to play for IU, then switched to LSU, before finally enrolling early at Notre Dame. This incurred...
Notre Dame quarterback Gunner Kiel intends to transfer after just one season, sources close to the Fighting Irish told the Chicago Tribune Kiel, a 2011 five-star recruit from Columbus, Ind., and Scout.com's No. 1 prospect, first committed to Indiana in June 2011, later pledged to LSU in late December that year, then de-committed from the Tigers in time to enroll early at Notre...
MOVING ON
Former top quarterback recruit Gunner Kiel reportedly has decided to transfer from Notre Dame. Where will he end up?
Gunner Kiel's time as the quarterback of the Notre Dame Fighting Irish will never come. The 6-foot-4, 210-pounder from Columbus, Ind., enrolled in classes at South Bend a year ago after graduating early from Columbus East High CLICK TO READ MORE
MORE STORIES >>
College Football News

Delivered to your inbox

You'll also receive Yardbarker's daily Top 10, featuring the best sports stories from around the web. Customize your newsletter to get articles on your favorite sports and teams. And the best part? It's free!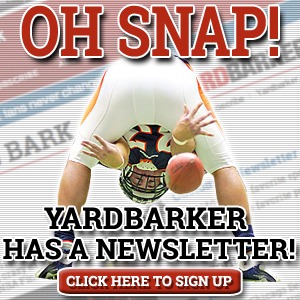 THE COLLEGE FOOTBALL HOT 10