CINCINNATI (AP) Gunner Kiel followed his six-touchdown debut by throwing for four more on Saturday night, and Cincinnati held on to beat Miami of Ohio 31-24 for its ninth straight victory over the southwest Ohio rival. Kiel, who transferred from Notre Dame and sat out last season, tied the school record with six touchdown passes in his debut last week, a 58-34 win over Toledo. He...
If you follow the AAC, I'm sure you have heard the conference slogan: "American Rising." With performances like the one put on by Cincinnati quarterback Gunner Kiel, underdog wins like ECU's at Virginia Tech, and close-but-no-cigar efforts like Memphis' road challenge against UCLA, one could say the AAC truly is on the rise. The teams in this league have shown that they...
The American put out it's players of the week for week 3. The Bearcats had two players honored, as you can see by the headline. The first was Gunner Kiel, which is absolutely no surprise because Kiel was awesome. The second Bearcat honored was punter Sam Geraci. Two Bearcats playing their first games and they both were honored as players of the week. No pressure to repeat that...
Gunner Kiel's debut as the Cincinnati Bearcats quarterback was not only hype-fulfilling or expectation-exceeding–it was downright historic. Kiel finished the night 25 of 37 for 418 yards, six touchdowns and zero interceptions. Those six touchdowns tied Tony Pike's school record for most in a game, and according to ESPN's stats and information department, Kiel set the record...
For the fans that knew him in high school in Indiana it must have felt like forever since the last time Cincinnati Bearcats quarterback had thrown a ball in a meaningful game--but it finally happened. After committing to Indiana and LSU, enrolling at Notre Dame, and finally transferring to Cincinnati the former 2011 Mr. Indiana Football stepped played his first college football game...
CINCINNATI (AP) Gunner Kiel tied Cincinnati's record with six touchdown passes in his debut on Friday night, and the Bearcats got a big early lead and held on for a 58-34 victory over Toledo in their season opener. Kiel, a transfer from Notre Dame, showed off his strong and accurate arm from the outset. He completed a 52-yard pass on the game's opening play from scrimmage...
Via AP on Fox
Gunner Kiel will finally play college football. The former five-star recruit and the No. 1 quarterback in the class of 2012 was named the starter for the University of Cincinnati's season-opener on Sept. 12 against Toledo by Bearcats head coach Tommy Tuberville. #Bearcats HC @TTuberville has named Gunner Kiel the starting QB for Friday night's game against Toledo. — Bearcats...
Word is breaking right now that Cincinnati coach Tommy Tuberville has announced that Gunner Kiel, the Notre Dame transfer, will start Friday night against Toledo. Tuberville announced the news in his weekly Tuesday luncheon. #Bearcats HC @TTuberville has named Gunner Kiel the starting QB for the season opener against Toledo Friday. — Ryan Koslen (@Koz_UC) September 9, 2014 Tommy...
Gunner Kiel will look to prove many wrong after being very indecisive and finally making his choice to stay at the University of Cincinnati. (via cincinnati) Two years ago, quarterback Gunner Kiel became the laughing stock of college football after notoriously committing to Indiana, then leaving and committing to LSU, after that, he once again left and ended up at Notre Dame,...
MOVING ON
Former top quarterback recruit Gunner Kiel reportedly has decided to transfer from Notre Dame. Where will he end up?
MORE STORIES >>
College Football News

Delivered to your inbox

You'll also receive Yardbarker's daily Top 10, featuring the best sports stories from around the web. Customize your newsletter to get articles on your favorite sports and teams. And the best part? It's free!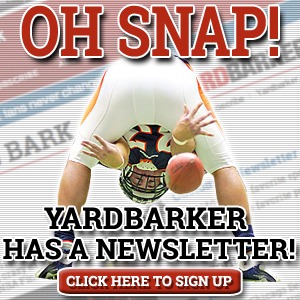 THE COLLEGE FOOTBALL HOT 10