The Cincinnati Bearcats have named Gunner Kiel as its starting QB for the 2014 season. The Notre Dame transfer was named the top signal caller over last year's starter Munchie Legauz. Kiel may have had the chance to start for Notre Dame after it became apparent Everett Golson would not be eligible (academic reasons) for the season, but he chose to follow through with his transfer...
CINCINNATI (AP) -- One of Gunner Kiel's biggest challenges is keeping his excitement in check. During the first few practices of Cincinnati's camp, the sophomore transfer from Notre Dame got caught up in the moment. It's quite a kick being the starting quarterback. "The first few days were a little shaky," Kiel said. "I think I came out anxious and excited...
Pat Forde over at Yahoo ranked his top 25 most intriguing quarterbacks of the 2014 season. Topping the list, of course, is the returning Heisman Trophy winner Jameis Winston. Marcus Mariota, Brett Hundley, Nick Marshall, Braxton, Gardner of Michigan all make the list. Just like one would expect. They are all quarterbacks on major teams like UCLA, Oregon, Auburn, tOSU and Florida...
Gunner Kiel will look to prove many wrong after being very indecisive and finally making his choice to stay at the University of Cincinnati. (via cincinnati) Two years ago, quarterback Gunner Kiel became the laughing stock of college football after notoriously committing to Indiana, then leaving and committing to LSU, after that, he once again left and ended up at Notre Dame,...
CINCINNATI -- Gunner Kiel hasn't played in a real live, the final score counts, football game in three years. Saturday wasn't one of those games for Kiel but he was taking Cincinnati's spring game serious. He has the quarterback pedigree name and the background of being a highly-decorated recruit but when it comes to college football Kiel doesn't have much else. That...
CINCINNATI -- Gunner Kiel hasn't played in a football game in more than two years. He's anxious, to say the least. There are a lot of people anxious to see Kiel play. They know the name. They remember the prodigious stats Kiel produced at Columbus East High School in Columbus, Ind., the stats that made Kiel one of the top-rated and hotly recruited quarterbacks in the nation...
The news that Everett Golson is no longer enrolled at Notre Dame has left many people noting the poor timing (and luck) of Gunner Kiel, who decided to transfer to Cincinnati in April. Kiel was a top quarterback recruit entering college. He initially committed to Indiana and then LSU before backing out and deciding to [...]
Quarterback Gunner Kiel is leaving Notre Dame without ever playing a down. Notre Dame coach Brian Kelly announced Tuesday that the former standout from Columbus, Ind., who was one of the top-rated quarterbacks coming out of high school a year ago, plans to transfer. He was the scout team quarterback his freshman season as the Irish went 12-1 and finished the season ranked No. 4...
In another strange twist in the Gunner Kiel saga, Notre Dame football announced that the freshman quarterback is set to transfer from the school. Somewhere in Baton Rouge, Les Miles is smiling. You might recall Kiel's commit-decommit happy recruitment phase, where he initially committed to play for IU, then switched to LSU, before finally enrolling early at Notre Dame. This incurred...
MOVING ON
Former top quarterback recruit Gunner Kiel reportedly has decided to transfer from Notre Dame. Where will he end up?
MORE STORIES >>
College Football News

Delivered to your inbox

You'll also receive Yardbarker's daily Top 10, featuring the best sports stories from around the web. Customize your newsletter to get articles on your favorite sports and teams. And the best part? It's free!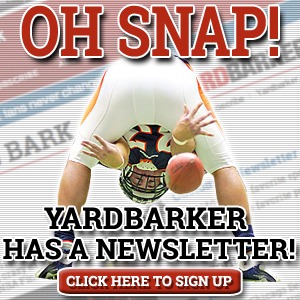 THE COLLEGE FOOTBALL HOT 10