LOS ANGELES --€" USC linebacker Hayes Pullard doesn't have an NFL team he roots for. Instead, he roots for players. Pullard has a personal connection with quite a few NFL players, many of whom were his teammates in high school and former roommates and teammates at USC. One of the players Pullard roots for is a former teammate at Crenshaw High School, Kansas City Chiefs running...
USC's defense will be led this year by the play of the linebackers. Lack of available scholarships the past few years has affected the depth of this group, but most of the guys that will see the field already have starting experience under their belts. This group brings experience and playmaker ability behind an above average defensive line. The front seven will be the glue that...
USC linebacker Hayes Pullard will return for his final season of eligibility. Pullard, who will be a fifth-year senior, announced his decision Monday via his Twitter feed. Pullard, who played at Crenshaw High, had a team-best 94 tackles for the Trojans, who finished 10-4. Pullard had 5 1/2 tackles for loss. Pullard's return could stabilize a defense that lost safety Dion Bailey...
USC linebacker Hayes Pullard talks about the Trojans' 45-20 win over Fresno State in the Las Vegas Bowl and his upcoming decision whether or not to leave for the NFL...
LOS ANGELES -- Michael Hutchings landed at USC after coming from from one of the country's most recognizable high school programs, Concord De La Salle. Since stepping on campus he's received nothing but high marks. He drew laughs from his teammates during the rookie talent show earlier in fall camp for a skit he did with fellow linebacker Hayes Pullard. "It'...
Former USC safety T.J. McDonald took linebacker Hayes Pullard under his wing and groomed him in the school of leadership. With McDonald now in the NFL, it's Pullard's time to put those lessons into play as the new leader of USC's defense. Pullard hopes to convey the lessons learned from McDonald, as well as groom others in the role to take over once his days as a Trojan...
USC quarterback Max Wittek and linebacker Hayes Pullard answer questions from the media following USC's 22-13 loss to Notre Dame.
LOS ANGELES - Hayes Pullard bleeds Blue and Gold. Not UCLA Blue and Gold, but Crenshaw Blue and Gold. Theres a difference. Its two different colors, Pullard said. Some former UCLA Bruins who are also Crenshaw alums tried to tell him different. Pullard had a talk with former Crenshaw stars, Brian Price and Reggie Carter earlier this week. Carter and Price were heavily recruited...
LOS ANGELES -- It was certainly something to see. Linebacker Hayes Pullard walked onto Howard Jones Field towards the end of USC practice. He looked like the rest of his teammates in shoulder pads and shorts. However, he did away with the cleats for running shoes instead and wore a wrap on his left ankle. Shortly after Pullard walked in, linebacker Dion Bailey strolled into practice...
USC redshirt sophomore linebacker Hayes Pullard has taken on a leadership role at fall camp amongst the young group of linebackers. He's also dedicated to learning how to play middle linebacker, in case depth issues force him to move from the outside in.
MORE STORIES >>
College Football News

Delivered to your inbox

You'll also receive Yardbarker's daily Top 10, featuring the best sports stories from around the web. Customize your newsletter to get articles on your favorite sports and teams. And the best part? It's free!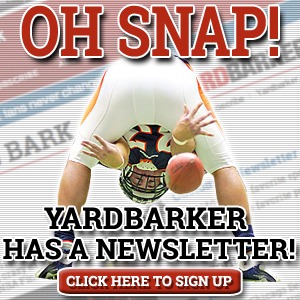 THE COLLEGE FOOTBALL HOT 10