According to Red Cup Rebellion, they will now be serving Chick-Fil-A sandwiches in Vaught-Hemingway Stadium. This is an absolute game changer for Ole Miss Rebel football who had Houston Nutt run their program into the ground. They just hired Hugh Freeze and things are starting to move in the right direction. According to RCR: Yes, the most exciting development of all of this is...
Houston Dale…cheffin' up embarrassment with a side of unintelligible explanations To infer that Houston Nutt has given up would be an insult to the exact amount of effort that one would need to exert to actually signal an out-right surrender.  Thankfully, to maintain a now 13 game SEC losing streak really only takes an amount of energy somewhere between actually being dead...
Mississippi coach Houston Nutt has suspended starting quarterback Randall Mackey and leading rusher Jeff Scott for Saturday's game against No. 1 LSU for violating team rules. Nutt did not say what the violations were, but said the suspensions could also include the season finale against Mississippi State. Ole Miss announced on Nov. 7 that Nutt would not return as coach next...
It was apparent quite quickly that this was not a normal Mississippi football practice. As players made their way up the stairs and onto the practice field, employees loaded boxes into a car in the parking lot, the first signs that the beginning of the end of Houston Nutt's tenure is here. In less than three weeks, Nutt will be gone. The fourth-year coach announced his resignation...
REBEL LEADER
With the recent announcement that Houston Nutt will be resigning from Ole Miss at the end of the season, we thought it would be useful to update an earlier piece we wrote on Nutt and expand our list of recommended coaches to be the next head coach at Ole Miss. The only thing worse than Ole Miss replacing the famed Colonel with the new and more politically correct "Rebel Black...
Mississippi football coach Houston Nutt will resign at the end of the season. Mississippi athletic director Pete Boone says Nutt will coach the Rebels' last three games this year. Boone also announced Monday he will step down as athletic director within the next year. The Rebels have lost 12 consecutive Southeastern Conference games, including Saturday's 30-13 lost to Kentucky...
((ht: clarionledger.com))It appears the adventures of Houston Nutt in Oxford, Mississippi are coming to an end.Ole Miss Chancellor Dan Jones will announce today that head football coach Houston Nutt will be relieved of his duties at the end of this season. He will also announce that athletic director Pete Boone will be departing as well.The story from the Jackson Clarion-Ledger RIGHT...
REBELS WITHOUT A COACH
Houston Nutt will be out of a job at Ole Miss at the end of the season. The AD is also stepping down. Who will be next to take the job?
By now you've probably all heard the news that sent shockwaves through Mississippi this morning. As first reported by about 200 other media outlets… and then confirmed by Crystal Ball Run, Houston Nutt resigned today as the head football coach of the Ole Miss Rebels. The announcement came at a 3:00 p.m. press conference in Oxford, reportedly causing countless bottles of champagne...
THE WALKING DEAD
There were a handful of very creative college football costumes that came across yesterday, but none of them were as fantastic as these two adorable young girls sporting Ole Miss gear, some makeup and a very telling sign. A Few Observations We love the Walking Dead. Yes, the acting is terrible and they've yet to [...]
MORE STORIES >>
College Football News

Delivered to your inbox

You'll also receive Yardbarker's daily Top 10, featuring the best sports stories from around the web. Customize your newsletter to get articles on your favorite sports and teams. And the best part? It's free!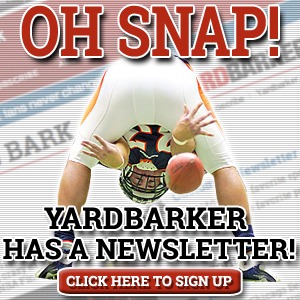 THE COLLEGE FOOTBALL HOT 10