Some pretty significant news dropped on Wednesday regarding Pitt running back Isaac Bennett. For starters, Bennett is expected to be ready for the Panthers' opener against Delaware. "Oh, I am ready," declared Bennett. "I am ready to be out there with my team; it is always a great pleasure, especially it being my senior year." In fact, he said there was never...
Back in the spring, Pitt running back Isaac Bennett went down with a shoulder injury. Both he and James Conner missed a lot of time during the spring practices, but Bennett's injury also required surgery. Bennett's status for fall camp at the time was up in the air. The running back has been practicing in camp, but has been limited. As Jim noted briefly on Monday, Bennett...
At least for the rest of spring practices. It's been quite a few months in the offline world. Not necessarily in a good way. That's really all I want to say about the latest gap in posting. When last I posted on football it was about the running back position. About how there was depth and lots of good feelings at the spot. Naturally that couldn't last. Pitt running backs James...
A year ago the running back position was a mess. Rushel Shell had thrown his tantrum and was in the midst of deciding where he would consider transferring. Pitt only had two backs in Malcolm Crockett and Isaac Bennett. None of the guys coming in as freshmen seemed like anything close to saviors. Heck, it really seemed the plan was for either if not both James Connor and Rachid Ibrahim...
Isaac Bennett scored the decisive touchdown on a 5-yard run on the final play of the third quarter, Tom Savage passed for 218 yards and another score, and Pittsburgh rallied past Syracuse 17-16 on Saturday in a critical game for both teams. Both needed a victory to become eligible for the postseason, and Pitt (6-5, 3-4 ACC) got the job done. Syracuse (5-6, 3-4) has one more chance...
Isaac Bennett ran for a career-high 240 yards and three touchdowns as Pittsburgh held off Old Dominion 35-24 on Saturday night. The Panthers (4-2) overcame an early 10-point deficit behind Bennett. Making his first start of the season, Bennett scored three times in a 12-minute span in the second quarter. Quarterback Tom Savage passed for 104 yards and a touchdown and also ran for...
After the transfer of Rushel Shell, Pitt junior Isaac Bennett looked to be the starter getting the bulk of the the carries for Pitt this season. Then a funny thing happened, though. Bennett got injured in camp and that gave Conner more carries than expected. It was those reps that opened the door for him and if the Florida State game was any indication, the Panthers will be going...
There's been a lot of concern about Pitt's running back situation - and for good reason. With the passing game a significant question mark, the Panthers need a solid running game. While Isaac Bennett doesn't have a ton of game experience, the thought is that he should be a reliable runner for the team this year. But with injuries to he and freshman James Conner, the backfield...
I honestly don't know, and don't think anyone will know until Pitt's offense takes the field on Monday Night. Here's Coach Paul Chryst's comments on Isaac Bennett. "He did some stuff yesterday in practice. He obviously missed quite a bit of time, so it's too early to tell if he'll be ready. But he was able to go through some things yesterday. We'll see how he comes...
MORE STORIES >>
College Football News

Delivered to your inbox

You'll also receive Yardbarker's daily Top 10, featuring the best sports stories from around the web. Customize your newsletter to get articles on your favorite sports and teams. And the best part? It's free!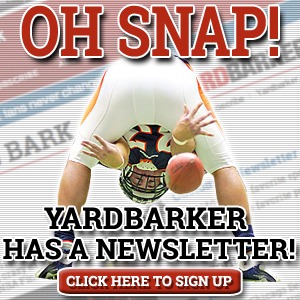 THE COLLEGE FOOTBALL HOT 10