Georgia running back Isaiah Crowell, left, rushed for 847 yards rushing and six total touchdowns in 2011. He was arrested on gun charges and dismissed from the team this summer. (Credit: AP Photo/David Goldman) Anyone following college football this summer, or our site, knows the tale of Isaiah Crowell. The former Georgia Bulldog running back was arrested on three felony weapon charges...
Former Georgia running back Isaiah Crowell has enrolled at Alabama State, according to a report. UGASports.com reported that Alabama State coach Reggie Barlow confirmed Crowell's admittance to the school. Crowell, a former five-star running back, was dismissed from Georgia on June 29 following an arrest on three gun-related charges, two of which are felonies. Crowell is eligible...
Isaiah Crowell This is somewhat of a regional story, but none the less, it is interesting. Now former University of Georgia tailback Isaiah Crowell is transferring to Alabama State according to multiple reports. The reason, as we told you last week, Crowell was arrested at a traffic checkpoint on the UGA campus and a gun with a sawed of serial number was found in his car...
HORNET'S NEST
Less than one week after he was dismissed from Georgia's football team due to multiple felony charges, Isaiah Crowell has found himself a new school to play for.
Georgia coach Mark Richt and his staff made the decision to officially cut ties with beleaguered running back Isaiah Crowell on June 29, marking the end to the talented runners brief saga in Athens. Crowells arrest earlier that morning on three weapons charges possessing a concealed weapon, altering the identification tag of said weapon and having a weapon in a school zone left...
Isaiah Crowell is no longer a Georgia Bulldog, and that may be the least of his problems. Crowell, the SEC's Offensive Freshman of the Year last season, was dismissed from the team on Friday after being arrested earlier that morning on three weapons charges, two of them felonies. The development was the latest in a roster of disciplinary problems that have plagued the Bulldogs...
BIG MAN OFF CAMPUS
Well, that didn't take long. Just hours after news surfaced that Isaiah Crowell was arrested on weapons charges, coach Mark Richt dismissed his star running back.
Georgia tailback Isaiah Crowell faces felony weapons charges after police found a gun in his vehicle early Friday morning. Athens-Clarke Police Department spokeswoman Hilda Sorrow says Crowell was arrested at a vehicle checkpoint on the Georgia campus at around 2:20 a.m. Among the charges he faces are carrying a concealed weapon and possession of a weapon on school property. Crowell...
Via AP on Fox
Georgia tailback Isaiah Crowell was arrested early Friday morning on three weapons charges, two of them felonies, according to published reports. Crowell, who was arrested on charges of carrying a concealed weapon, possessing a weapon in a school zone and carrying an altered ID, was considered to be the starting running back for the Bulldogs heading into this fall, according to...
Gunner Kiel has committed to LSU, but is apparently backing out of that commitment to stay close to home and attend classes at Notre Dame. Now I'm not one to rip on a kid for making a decision to be closer to his family, but don't commit until you know where you want to go. There's no point in committing to Indiana early and then withdrawing that commitment and committing to...
MORE STORIES >>
College Football News

Delivered to your inbox

You'll also receive Yardbarker's daily Top 10, featuring the best sports stories from around the web. Customize your newsletter to get articles on your favorite sports and teams. And the best part? It's free!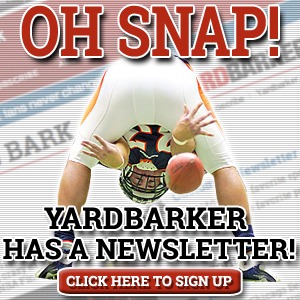 THE COLLEGE FOOTBALL HOT 10