The Buckeyes have been known for always having a good offensive line. The offensive line should be the biggest question mark for the Ohio State football team going into the 2014 season.  The O-line was one of Ohio State's biggest strengths last season, but it consisted of four multiyear senior starters.  Jack Mewhort, Corey Linsley, Andrew Norwell, and Marcus Hall are no longer...
Selection: Jack Mewhort, OT/G, Ohio StateI don't have a problem with the Colts going offensive line here, but I have a problem with the player. Whether they view him as a tackle or a guard, there were better players available at both positions. I think Mewhort could have been available for him in the third round. I think this was just too big of a reach despite filling one of...
MOBILE, Ala. - For Jack Mewhort, accepting an invitation to the Senior Bowl wasn't exactly a no-brainer. In fact, it was a calculated, well thought out decision. A throwback tough guy entering a draft process that often rewards the biggest, strongest and fastest, Mewhort saw the Senior Bowl as a chance to actually play football on his way to hopefully playing football at the...
MOBILE, ALABAMA -- Ohio State offensive lineman Jack Mewhort goes in-depth on his Senior Bowl experience thus far, as well as his career with the Buckeyes...
Jack Mewhort may be the most interesting man in the world. Said to be one of the greatest teammates to don the Scarlet and Gray, Mewhort certainly lives up to each and every expectation placed upon him. He is known as one of the biggest pranksters, jokesters, and overall comical players on the team. He is always laughing and joking, endearing him to fans, players, and coaches alike...
Ohio State head coach Urban Meyer and offensive lineman Jack Mewhort addressed the Big Ten media on Thursday afternoon as part of the annual Big Ten spring teleconference. Check out what the two had to say as the Buckeyes prepare for Saturday's spring game.
Jack Mewhort loves college football. Yet he likely won't go out of his way to watch a single bowl game in the coming days. What's the point, the thoughtful, red-haired Ohio State offensive lineman says, not really seeking an answer. ''Now that the season is over, you can sit around and think to yourself a little bit,'' he said in a voice a lot softer than...
Ohio State offensive lineman Jack Mewhort spoke with members of the media following the Buckeyes 17-16 victory over Michigan State.
Just how mad is Ohio State head football coach Urban Meyer that two Buckeye players, Jake Stoneburner and Jack Mewhort were arrested last weekend? Enough to invent a new place on the depth chart for them. "Maize," of course, is one of the team colors of Ohio State's most hated rival, Michigan. Also, it can be the color of urine, which is what Stoneburner and...
The blonde haired guy is Ohio State offensive lineman Jack Mewhort. The guy in the middle is tight end Jake Stoneburner. These two were arrested last weekend for obstructing official business after they ran from cops who caught them taking a leak in public. Blah, blah, blah. What we're here for is the jailhouse video where Mewhort is trying to figure out whether to tell Urban Meyer...
MORE STORIES >>
College Football News

Delivered to your inbox

You'll also receive Yardbarker's daily Top 10, featuring the best sports stories from around the web. Customize your newsletter to get articles on your favorite sports and teams. And the best part? It's free!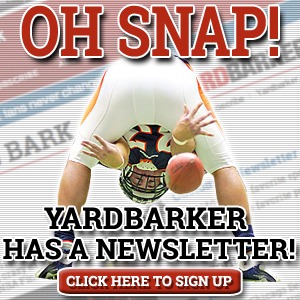 THE COLLEGE FOOTBALL HOT 10