Wisconsin Badgers beat writer Jesse Temple will be analyzing the 25 most important players to the Badgers' success in the 2014 season. Check back each weekday to see the latest player on the list. You can find every report here. Note: This is not a list of the team's 25 best players or a series about past success, but rather which of them means the most to how Wisconsin...
Wisconsin Badger football may be the furthest thing from your mind, especially given the BBQ's and festivals and Memorial Day activities going on. However, we're just 97 days…err, Jack Russell, from the 2014 Badger football season kicking off. It's just our second Badger football player on our countdown; so let's get to it. Russell's Story So Far: - Became the starting...
MADISON, Wis. -- When Jack Russell's 36-yard field goal attempt sailed wide left during the first half of Wisconsin's spring game Saturday, the junior-to-be was disappointed in himself. But perhaps more disappointed was his head coach, Gary Andersen. The typically reserved Andersen, standing behind the play, muttered an expletive that made its way onto the Big Ten Network...
The Minnesota Golden Gophers have dug to the bottom of their bag of tricks and found a pretty clever way to distract field goal kickers. The "Dramatic Gopher" YouTube video was quite the asset to the team this past Saturday. Yep, this one. The school put the gopher video on the big screen when Wisconsin was kicking field goal attempts, and it actually worked. Jack Russell, the...
MADISON, Wis. -- If there is one thing Kyle French has learned from his yearlong starting kicker battle with Jack Russell, it's that thinking on the field -- about mechanics, crowd noise, game situation, anything -- is never good. Thinking about losing a starting spot? That's even worse. This week, as French and Russell continue a seemingly endless competition to take over...
MADISON, Wis. -- Two days after subpar performances from kickers Kyle French and Jack Russell, Wisconsin coach Gary Andersen has declared an open competition for the Badgers' starting kicking role. French, who missed a 40-yard field goal against UMass, bounced an extra point off the right upright against Tennessee Tech and was immediately replaced by Russell. But Russell missed...
Welcome to the Fallout - Sunday edition. Arizona's Austin Hill injured. Arizona head football coach Rich Rodriguez announced on Saturday wide receiver Austin Hill tore his ACL during practice last Wednesday. There's no word yet on when he will be ready to return.  (ESPN) Badger's got a gun. Wisconsin kicker Jack Russell has come under fire after a picture surfaced...
  If you read the Wisconsin State Journal on a daily basis in Madison or check it out on the web you've likely seen a story titled "Gun-toting kicker misses uprights" in the past 24 hours or so. It's a story about kicker Jack Russell and it's headline is supposed to make you think that there is an evil gun loving kicker up to no good. Congrats...
MADISON, Wis. Each day on the Camp Randall Stadium turf this August, two hours of practice comes down to four field-goal attempts. For Kyle French and Jack Russell, the moments are especially nerve-wracking. Members of Wisconsins football team encircle the special teams units, screaming and heckling in the direction of French and Russell. How they handle the jeers and more specifically...
The news of Danny O'Brien winning the starting quarterback job probably came as little to no surprise to anyone, but the other bit of news coming out of Badgers camp this weekend probably does surprise a few people and that news is there is a real battle going on at the Kicker spot. A lot of people (myself included) assumed that Kyle French had the starking place kicking duties...
MORE STORIES >>
College Football News

Delivered to your inbox

You'll also receive Yardbarker's daily Top 10, featuring the best sports stories from around the web. Customize your newsletter to get articles on your favorite sports and teams. And the best part? It's free!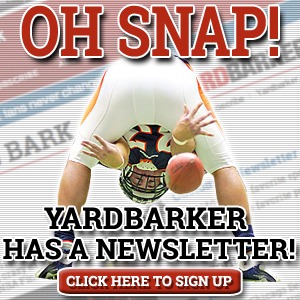 THE COLLEGE FOOTBALL HOT 10