Laying in bed thinkin about how lucky I am to have a second chance at UC. Forever grateful. Thanks to all who makes this possible. #bearcats — Jake Golic (@JGolic88) August 18, 2014
The Cincinnati Bearcats kick off the 2014 football season in 31 days. Bearcats Blog is counting down 32 reasons and people why we, as a fan base, should be pumped for 2014. 32 – AAC Favorite – 31 – Adrian Witty  #30 – Jake Golic's Incredible Return Jake Golic is only known for his coming's and going's with the Cincinnati football program. Last season, he announced...
Jake Golic is a proud member of one of America's best-known football families, and the University of Cincinnati senior is fighting hard to continue his career. A chronic back ailment seemed to terminate football for Golic in August 2013, when constant pain prompted the Notre Dame transfer to retire from UC preseason camp. Yet, the son of former Notre Dame and NFL defensive...
It's Monday and that means it's time to take a look around the Bloguin family of sites and see what they are talking about….. Dale Newton of The Duck Stops Here, takes a look at the ground work that's being laid at Oregon for a potential "dream season" [story link] Mike Ferguson of Noled Out take a look at "Great FSU Football Nicknames" [story link]. Bearcats Blog...
Jake Golic was a graduate student from Notre Dame who was going to play at UC last year. That didn't happen because Golic suffered a serious back injury. Golic got some stem cell procedure done in Colorado to help with his back. Obviously it worked because: Finally official. Got the 6th year! Couldn't be more happy. See you soon cincy!! — Jake Golic (@JGolic88) April 22,...
Yesterday, college football fans received some sad news. Jake Golic, son of ESPN's Mike Golic, was calling it quits from football due to suffering from chronic injuries. Golic transferred to Cincinnati after graduating from Notre Dame this spring, and was hoping for a fresh start, and end, to injury-plagued career. However, his body just wouldn't allow it, and instead he took...
Notre Dame transfer Jake Golic's desire for a fresh start at Cincinnati looks to be paying off early.
Jake Golic, son of ESPN's Mike Golic, is leaving Notre Dame and will join the Cincinnati Bearcats for the 2013 season. The transfer will mark the end of the Irish football family legacy dating back to the 70's. Bob Golic, the uncle of Jake, was an All American at Notre Dame and a member of the 1977 National Championship team. Jake's father, Mike, graduated from Notre Dame in...
und.com Notre Dame tight end Jake Golic, son of ESPN's Mike Golic, will be transferring to the University of Cincinnati for his final year of eligibility. Golic graduated from ND this past year, and therefore will be able to play for the Bearcats immediately.  His father announced his son's decision on his radio show, "MIke & Mike in the morning". Jake himself then...
Jake Golic is the son of Mike Golic. Like his father, Jake played at Notre Dame. Unlike his father, Jake is not going to play at Notre Dame his whole college career. His father announced it on his radio show today, but Jake also tweeted the news that he is transferring to Cincinnati. That screen cap is from the linked ESPN piece. Jake is able to play at Cincinnati right...
MORE STORIES >>
College Football News

Delivered to your inbox

You'll also receive Yardbarker's daily Top 10, featuring the best sports stories from around the web. Customize your newsletter to get articles on your favorite sports and teams. And the best part? It's free!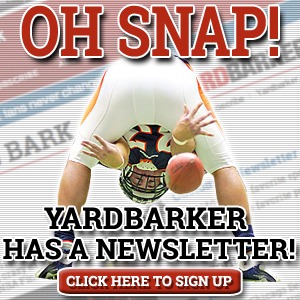 THE COLLEGE FOOTBALL HOT 10