MANHATTAN, Kan. (AP) Jake Waters threw for 223 yards and accounted for four touchdowns and Charles Jones ran for a pair of scores as No. 20 Kansas State pounded Stephen F. Austin 55-16 on Saturday night. Waters threw touchdown passes to Tyler Lockett and Kody Cook while also running for two TDs as the Wildcats improved to 21-2 in season openers under longtime coach Bill Snyder....
Overview: The improvement of QB Jake Waters was the catalyst of the impressive turnaround the Wildcats orchestrated in the second half of last season, and he saved his best for last, torching Michigan in a 31-14 rout (that wasn't that close) in the Buffalo Wild Wings Bowl. He figures to be even better this season, and he'll have one of the most underrated freshmen in the country...
In the Wildcats last season, junior Daniel Sams and senior Jake Waters competed every week to claim the quarterback position. At the season's conclusion, Waters had edged Sams out. If there had been any doubt as to which player had locked-in the spot, Waters' display in the post-season Buffalo Wild Wings Bowl game against Michigan solidified it. Waters will continue to perfect...
K-State celebrates their 31-14 Buffalo Wild Wings Bowl victory over Michigan. The only thing colder than the celebratory Gatorade dumped on K-State (5-4 Big 12, 8-5) head coach Bill Snyder was the walk back to the locker room for the Michigan Wolverines (3-5, 7-6) after their 31-14 loss at the Buffalo Wild Wings Bowl on Saturday. With no scoring in the second or third quarters, one...
It's often said that winning a bowl game can be a catapult for positive momentum heading into the following season. If that is indeed the case, then Kansas State has plenty to look forward to following a dominating 31-14 victory over Michigan in the Buffalo Wild Wings Bowl. Kansas State led from the start putting together two impressive scoring drives to open the game while the...
Just when it appeared as if Kansas State coach Bill Snyder was settling on one quarterback, Jake Waters came back with gusto on Saturday. So did the Wildcats, for that matter. Waters completed 10 of 13 passes for 198 yards and three touchdowns in a 38-12 rout of West Virginia that gave the defending Big 12 champions their first conference win of the year. Waters also ran for 55...
Jim Cowsert (USA TODAY Sports) Disappointing. That's how Kansas State Wildcats head coach Bill Snyder described his team's 31-21 loss to the Texas Longhorns in their Big 12 opener. The Wildcats couldn't establish rhythm offensively and Texas running back Johnathan Gray couldn't be stopped as the Longhorns ended a streak of five straight losses to the Wildcats, dating back...
Jake Waters (Photo by: Bo Rader/Wichita Eagle) The Kansas State Wildcats' two-quarterback system of Jake Waters and Daniel Sams is the biggest storyline for Bill Snyder's team this year. With one specializing in rushing and the other focused on airing it out, Sams and Waters are putting a fresh spin on the role of quarterback within a team. While it's still unclear as to whether...
MANHATTAN, Kan. -- Feisty? You dig feisty? Jake Waters once got a defender so angry that the guy ran over, hauled off and punched him after the play was over. True story. It's November 2007, during the Iowa Class 1-A state football semifinals, and the new starting quarterback at Kansas State is a 5-foot-10 sophomore signal-caller with Council Bluffs St. Albert High School, running...
Of all the coaches you would least expect to break the "we're not naming a starting quarterback until he runs on the field" mold, Bill Snyder would probably top your list. But that was exactly what he did during Mondays Big 12 coaches conference. Snyder announced that junior college transfer, Jake Waters, would be the first guy under center when the Wildcats open against North...
MORE STORIES >>
College Football News

Delivered to your inbox

You'll also receive Yardbarker's daily Top 10, featuring the best sports stories from around the web. Customize your newsletter to get articles on your favorite sports and teams. And the best part? It's free!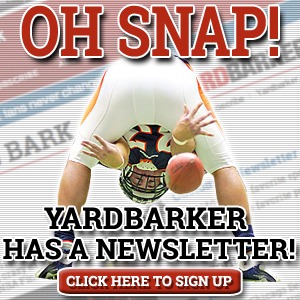 THE COLLEGE FOOTBALL HOT 10