CHARLESTON, Ill. (AP) Shepard Little had 12 carries for 130 yards and a touchdown on Saturday, and Eastern Illinois ran past Tennessee State for a 28-3 win. Quarterback Jalen Whitlow ran for 91 yards and a touchdown, and threw for another on a pass to Adam Drake. Eastern Illinois (3-5, 3-1 Ohio Valley) finished with 294 yards rushing, averaging 6.8 yards per carry. Whitlow's...
The Kentucky Wildcats made the final four of 2015 Alabama defensive end Quandeski Whitlow, but on Monday, he announced his commitment to the South Carolina Gamecocks. This weekend, Whitlow tweeted out a list of his top four schools that included South Carolina, UK, the Miami Hurricanes and Mississippi State Bulldogs. Whitlow visited South Carolina on June 13 and camped at UK on...
2015 Alabama defensive end Quandeski Whitlow announced today via Twitter that he would be committing to his school of choice sometime this month. Committing to my school this month!! — Boosie W. 4⃣9⃣ (@BoosieWhitlow) June 15, 2014 Whitlow also tweeted out a top four immediately afterward, which included South Carolina, Kentucky, Miami and Mississippi State. My Top 4! pic.twitter...
FCS powerhouse Eastern Illinois is known for its quarterbacks and coaches. The Panthers list Tony Romo and possible first round pick Jimmy Garoppolo, as well as head coaches Sean Payton, Mike Shanahan, and Brad Childress as alumni. The Panthers may be taking another quarterback with some potential, as well as a superstar receiver. 247sports' Josh Newberg reports that Mizzou receiver...
He's Just Not That Into YouJalen Whitlow is an ex-Kentucky Wildcat quarterback. It was announced on Wednesday that the sophomore QB will be transferring to another school.  "I appreciate the University of Kentucky and what the coaching staff and administration have done for me," Whitlow said. "I also thank the community and the fan support I have received here...
Former Prattville High quarterback Jalen Whitlow, who has started 15 games over the last two seasons at Kentucky, has decided to transfer from the school. Whitlow completed 98 of 159 passes for 1,033 yards in eight starts in 2013, throwing five touchdowns and five interceptions. He also ran for 457 yards and a team-high six rushing TDs, as the Wildcats finished 2-10. "We respect...
Kentucky football fans – change is coming. Junior quarterback Jalen Whitlow, who started eight games last year for the Wildcats, will be transferring from the university. According to reports, head coach Mark Stoops asked Whitlow if he'd be open to playing another position on the team. Whitlow did not agree. Stoops met with Whitlow last night and asked him if he would be open...
When kids grow up in Alabama, as was the case with University of Kentucky quarterback Jalen Whitlow, rumor has it they're either "Roll Tide!" or "War Eagle!" from the time they exit the womb. Now he finds himself just days away from playing tradition-rich Alabama.
All of the chatter leading up to Kentucky's opening game against Western Kentucky was that Jalen Whitlow would be the starting quarterback. No, head coach Mark Stoops never announced his starter, the other possibility being Max Smith, but we all assumed it would be Whitlow. We also assumed, or at least I did, that Whitlow must be a much improved passer from a year ago. Yeah, he...
With a new brand of excitement, a new coaching staff, and a new perspective, the Kentucky Wildcats hosted the Big Blue Nation in their Spring Game Saturday night. Mark Stoops was set to unveil his first team ever as a head coach, but how many people would actually show up? Just last year, this same Kentucky squad went 2-10 and didn't win a game in the SEC. If the first walk to...
MORE STORIES >>
College Football News

Delivered to your inbox

You'll also receive Yardbarker's daily Top 10, featuring the best sports stories from around the web. Customize your newsletter to get articles on your favorite sports and teams. And the best part? It's free!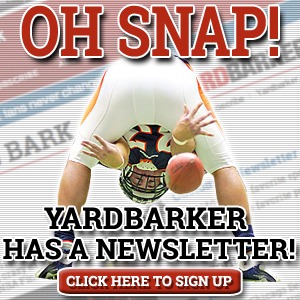 THE COLLEGE FOOTBALL HOT 10