There was a reason why Jamaal Williams, BYU's blossoming superstar at running back, was working with the second-team offense as the Cougars opened 2014 preseason training camp on Friday afternoon. In a post-practice interview session, Williams stared into the sea of cameras, microphones and recorders and confirmed rumors that he has been suspended for one game due to an honor...
BYU sophomore running back Jamaal Williams has enjoyed an outstanding year under the tutelage of BYU Offensive Coordinator Robert Anae. He reflected on the past season and gave his thoughts on his own overall season performance. Williams still has one more game to play against Washington but he harbors great expectations for the Cougars in coming years.
When BYU running back Jamaal Williams suffered a nasty concussion in a loss to Utah last month, his thoughts turned to his mother. Williams wasn't worried about if he had suffered a serious neck injury or if he would be able to play again this season. He was more concerned about disappointing his mom. ''When I got hurt, I feel like I let her down,'' Williams...
Saturday night was host to one of the greatest rivalries in college football--the Holy War between the Utah Utes and BYU Cougars. Like any other rivalry game, this is the one that the players get up for; that they want to win more than any other game. @cjzero/Twitter However, as important as a win is the health of a player always comes first. After the hit BYU starting...
Manny Diaz was on a short leash entering the season. He can now add former defensive coordinator at Texas to his resume as he was let go on Sunday. The Longhorns gave up 679 yards of total offense against BYU on Saturday night, with the Cougars rushing for 550 yards. BYU quarterback Taysom Hill finished with 259 yards rushing while running back Jamaal Williams had 182 yards of his...
What's in store for Jamaal Williams this year after bursting out onto the Cougar scene last year? With reports of BYU's offense being injected with Coach Anae's version of JP7 jet fuel for a high-octane performance, Williams is sure to be a big-time beneficiary of what's to come.
Brigham Young Cougars running back Jamaal Williams is scoring touchdowns at an impressive rate. He is surging up the charts for rushing touchdowns scored in a season, and not just for freshmen. Did you know that Jamaal Williams needs to average one rushing touchdown per game in the final three games to finish the season tied for the sixth most rushing touchdowns in a season? Currently...
Freshman running back Jamaal Williams scored four touchdowns and had his second 100 yard rushing game of his career and the defense shut down the triple-option threat of the Yellow Jacket offense in the BYU Cougars victory over Georgia Tech.After a 44 yard kickoff return by JD Falslev, the BYU offense got the ball rolling early, marching down the field and into the end zone to put...
The Brigham Young Cougars entered the 2012 season expecting a legion of seniors to lead the team. It was expected that 29 seniors would be on the roster. Their experience and leadership was going to carry the team. There didn't appear to be any room for a young sapling to grow among this forest of redwoods.Jamaal Williams, the youngest of BYU's saplings, has shown otherwise....
The Cougars hit the road this week to face Notre Dame, their second consecutive top-10 opponent of the season – a first for BYU. Cougar running back Jamaal Williams will look to get the ground game going against top-rated linebacker Manti Te'o and his Fighting Irish defense.
MORE STORIES >>
College Football News

Delivered to your inbox

You'll also receive Yardbarker's daily Top 10, featuring the best sports stories from around the web. Customize your newsletter to get articles on your favorite sports and teams. And the best part? It's free!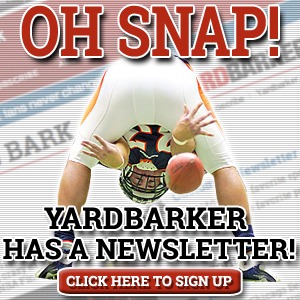 THE COLLEGE FOOTBALL HOT 10