Florida State-Clemson just got very, very interesting.  The Seminoles tied the game at 17 when senior receiver Rashad Greene hauled in a 74-yard touchdown pass from redshirt sophomore quarterback Sean Maguire.  Nobody was more excited than Jameis Winston following the play.  Florida State and Clemson are tied, 17-17, with less than five minutes to play. [Barstool Sports]
A lot of people are sick of Florida State quarterback Jameis Winston's antics, and Sam Ponder is one of those people. Winston received a full-game suspension Friday for standing on a table in a public space and yelling an obscene phrase made popular by an internet video, which is derogatory toward women. It wasn't the 2013 Heisman Trophy winner's first transgression either...
Jimbo Fisher and Jameis Winston got into a sideline exchange after the quarterback was warming for the Clemson game.
Late Friday night, it was announced by Florida State that Heisman Trophy winning quarterback Jameis Wiston, who had already been suspended for the first half of the Seminoles' game against Clemson on Saturday, would actually be forced to sit out the entire contest. CNN's Rachel Nichols is reporting that the increased penalty for Winston is a result of the quarterback not being...
Florida State quarterback Jameis Winston has now been suspended for their game against the Clemson Tigers on Saturday. As you already know, Winston was originally suspended for the first half after he made inappropriate comments on campus earlier this week. According to an email by Interim Florida State President Garnett S. Stokes late Friday night, the school has now suspended Winston...
Florida State star quarterback Jameis Winston was the butt of the joke on many of the best College GameDay signs during the opening weekend of the 2014 college football season for shoplifting crab legs. Despite solid on-field play through the Seminoles' first two games, Winston is facing an increasing amount of criticism for his off-the-field issues after getting suspended for...
Jameis Winston's immature behavior is costing him in the eyes of NFL scouts. Since the widely publicized sexual assault allegations he faced last year, Winston has continued to display poor behavior. The Heisman Trophy winner was cited for stealing crab legs at a grocery store. He was suspended for the first half of Florida State's […]
Unless you've been living under a rock the last week, you know that reigning Heisman Trophy winner Jameis Winston has been suspended for the first half of the Seminoles upcoming game against the Clemson Tigers. The reason he was suspended is actually quite laughable by itself, but this "incident" is just one in a myriad [&hellip (Visited 2 times, 2 visits today) The post...
Florida State quarterback Jameis Winston just can't seem to stay out of the headlines for negative reasons. Between the rape allegations, the crab leg theft, the numerous BB guns incidents and now the obscene outburst on campus, fans feel like it's just a matter of time before the Heisman Trophy winner does something else embarrassing. One fan, who is probably not a supporter...
Tweet#1 Florida State has suspended 2013 Heisman Trophy winner Jameis Winston for the first half of their Saturday matchup against 22nd ranked Clemson, according to a report from ESPN. Winston reportedly was yelling obscenities on campus earlier this week, causing the Seminoles to sit their starting QB for a half. "As the university's most visible ambassadors, student-athletes...
MORE STORIES >>
College Football News

Delivered to your inbox

You'll also receive Yardbarker's daily Top 10, featuring the best sports stories from around the web. Customize your newsletter to get articles on your favorite sports and teams. And the best part? It's free!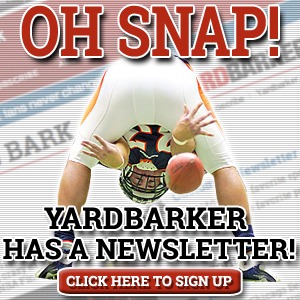 THE COLLEGE FOOTBALL HOT 10