The excitement continues to build at Penn State as they have sold out their entire Student section for the 2014 season. While it may not be uncommon for student sections to be sold out, it is uncommon with how fast they have sold out.  Statecollege.com reported that these tickets were sold out in 4 hours with the Sophomore allotment in 35 minutes and the Freshman allotment in just...
A new filing by the defense in the case involving rape charges against four Vanderbilt football players alleges that the team's former coach James Franklin contacted the alleged victim. Franklin is now the head coach at Penn State, and if this report proves to be true, it could cause big problems for him at his new school. In the filing, the defense claims that Franklin and strength...
The streamers were still falling from the Georgia Dome ceiling when some disappointed and disgruntled folks turned their attention to James Franklin on Twitter. Franklin "sucks" and "is a terrible quarterback" were two early remarks. But there were plenty more unfortunately. "This game was lost because Franklin had a terrible day passing." "James...
The 6-0 Missouri Tigers received some horrible news Saturday when they learned quarterback James Franklin will miss the remainder of the regular season with a shoulder injury. #Mizzou QB James Franklin is expected to be out for at least the next 6 wks, probably longer w a Grade 2 shoulder separation, per source. — Bruce Feldman (@BFeldmanCBS) October 12, 2013 ESPN is reporting...
Mizzou coach Gary Pinkel has confirmed that quarterback James Franklin separated his shoulder against Georgia and will be out at least 6 weeks.
Last year, I described the coming of the Missouri Tigers to the SEC as being similar to the first day of school. However, after a year into said new school, which just happens to be the most dominant entity in major label American sports, the SEC, a few things are very clear that this is […]The post The Good, The Bad And The Ugly: The 2013 Missouri Tigers appeared first on The...
A lot of college coaches spend months -- sometimes years -- in search of a leader to establish the tone and set an inspiring example inside their locker room. Missouris Gary Pinkel does not have that problem. Tigers quarterback James Franklin is more than a player with 4,533 passing yards and 49 total touchdowns in three seasons and more than a player coming off a series of injuries...
COLUMBIA, Mo. -- Missouri quarterback James Franklin will likely miss his second consecutive game when the Tigers play Kentucky on Saturday. Franklin was listed as "doubtful" on the team's updated depth chart released Monday. The junior sprained the medial collateral ligament in his left knee during the first quarter against Vanderbilt on Oct. 6. Team spokesperson...
Missouri will have to face the no.1 ranked team in the country without it's star quarterback. James Franklin was knocked out of the Tigers' embarrassing 19-15 loss to Vanderbilt with a knee injury that will keep him out of action for a while. Mizzou head football Gary Pinkell reports that coach reports that Franklin "has a strained MCL, so he's out for a few weeks...
TOUGH GUY
Missouri's quarterback takes an interesting approach to injuries. His stance is much different from what you'll see from many others.
MORE STORIES >>
College Football News

Delivered to your inbox

You'll also receive Yardbarker's daily Top 10, featuring the best sports stories from around the web. Customize your newsletter to get articles on your favorite sports and teams. And the best part? It's free!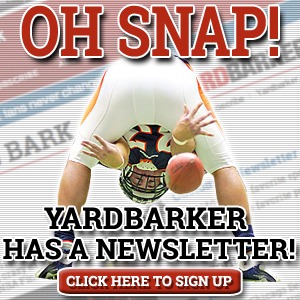 THE COLLEGE FOOTBALL HOT 10