Iowa football is looking to recover from a horrendous 3-8 2012 campaign.  Quarterback James Vandenberg moved on to the NFL where he'll be fighting for a roster with the Minnesota Vikings. It's hard to think Vandenberg will be missed in Iowa City after his pitiful 2012 season. Vandenberg had more interceptions than touchdown passes. West Virginia's Geno Smith had more passing...
photo via CFB Section First James Vandenberg wowed the blogosphere with his bow prowess by  harvesting a bear. Now, the Iowa quarterback who has somehow inexplicably led the Hawkeyes to a share of first place in the Big Ten Legends division with Michigan has gone and bagged a deer. Not just any deer, mind you, but a 21-point monster buck. This football thing might not work...
Big Ten Football Week 7 PreviewNebraska and Penn State have bye's this week…My Record….44-13    77.1%Iowa (3-2, 1-0) @ Michigan State (4-2, 1-1)     Noon     ESPN:  The Hawkeyes lead the all-time series with Michigan State 22-19-2…Iowa has won 4 of the last 7 meetings…there hasn't been a winning streak longer than 3 games in this series since the early 80's…so...
James Vandenberg 2012 Iowa Hawkeyes Football Quickview 2011 Record:  7-6 Head Coach:  Kirk Ferentz-  14th year   96-66 Returning Starters:   10    5-Offense  5-Defense Nonconference Schedule Breakdown:  UPSET ALERT!!…the Hawkeyes only 'road' nonconference game in 2012 is the 1st game of the year when they travel to Soldier Field in Chicago to face Northern Illinois...
Iowa quarterback James Vandenberg broke his silence about the event than made him an internet sensation - harvesting a 350 lb. black bear in Canada. "You're walking through the woods kind of in the semi-darkness with no flashlight," Vandenberg said Wednesday. "You can only see as far from me to you [about three feet]. "It's so thick that every two to three...
What has your college quarterback been up to during the offseason? Getting arrested for DUI or stealing a laptop? Slaying any bears? Iowa QB James Vandenberg has. See that black bear? It recently got in the way of an arrow. Sorry, animal lovers, Vandenberg doesn't seem to have any issue helping control the bear population in Alaska or wherever he went to bag this monster. (via...
TARGET PRACTICE
Iowa quarterback James Vandenberg had a busy holiday weekend and got himself quite the trophy -- a huge bear.
James Vandenberg of the Iowa Hawkeyes is seen posing here with a deceased black bear. You can see James Vandenberg (who's nickname seriously is "The Mandenberg") holding a bow and arrow. When Mike Leach killed a beach, he used a gun. It appears that this guy took the old fashioned approach and used archery. This is cooler than throwing any touchdown or any play you could make...
Previewing Week 10 in the Big Ten. There isn't really a marquee game this weekend, but there are some intriguing match ups like Northwestern at Nebraksa and Michigan at Iowa. James Vandenberg (16) and Marcus Coker (34) Michigan at Iowa: I have no feel for this game whatsoever…I want to say UM because they have a better defense…but the Big Ten teams have not done well on the...
MORE STORIES >>
College Football News

Delivered to your inbox

You'll also receive Yardbarker's daily Top 10, featuring the best sports stories from around the web. Customize your newsletter to get articles on your favorite sports and teams. And the best part? It's free!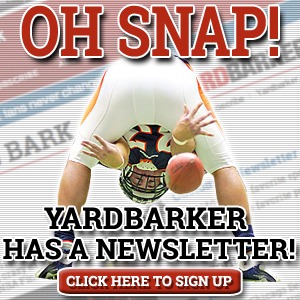 THE COLLEGE FOOTBALL HOT 10