Janoris Jenkins is considered to be one of the top cornerback prospects in the draft, but his troubled past concerns teams. Jenkins was a freshman All-American at Florida in 2008, but he was kicked off the team by coach Will Muschamp last April. His rap sheet at Florida included three arrests, failed drug tests, and he also has four children with three women. A report last week...
Janoris Jenkins: Northern Alabama Background Character: Leadership: 5 (Below Average NFL Skill Level) Attitude: 4.5 (Great 2nd Tier Skill) Work Ethic: 4.5 (Great 2nd Tier Skill) Off the Field Attitude: 3 (Great 3rd Tier Skill) Coachability: 4.5 (Great 2nd Tier Skill) Production: 5.5 (Adequate NFL Skill) Athleticism: Balance: 8 (Great NFL Skill) Flexibility: 8 (Great NFL Skill) Change...
Yesterday, I addressed how I thought teams should handle off-field problems of players and prospects. In that piece, I mentioned that Janoris Jenkins would likely be the poster-boy for prospects with potential character issues. It would seem that I made an accurate assessment. It was reported by Albert Breer that Jenkins continued his drug use even after he chose to move to North...
One could make the argument that there's less intrigue at the top of the draft this year than there is at the bottom. It would appear as though Andrew Luck will go to the Colts at No. 1 and the Redskins will select Robert Griffin III at No. 2. While the Vikings are reportedly looking at three prospects sitting at No. 3, if they choose Matt Kalil then other pieces could predictable...
The National Football League logo is displayed near the stage during round one of the 2011 NFL Draft Pick at Radio City Music Hall on April 28, 2011 in New York City. UPI/Monika Graff Here are my top 5 small-school prospects for the 2012 NFL Draft. 1. Janoris Jenkins, CB, North Alabama Jenkins is technically a small-school prospect because he finished his collegiate career...
1) CB Janoris Jenkins, North Alabama     Following his three years as a starter for Florida, Jenkins transferred to North Alabama after multiple run-ins with both the law and his coaches.  Even though the competition was not comparable, Jenkins kept himself in the top three or four as his position.  He is a natural cover corner with good instincts and exceptional quick-twitch...
Janoris Jenkins from tiny University of North Alabama is one of the most talented defensive backs in this year's NFL draft. You'd also be hard-pressed to find a prospective NFL rookie carrying more negative cargo into his NFL Combine team interviews than this premier cornerback. At 23, he has four children, three boys and a girl ages 3, 2, 1 and three months. He also has...
MORE STORIES >>
College Football News

Delivered to your inbox

You'll also receive Yardbarker's daily Top 10, featuring the best sports stories from around the web. Customize your newsletter to get articles on your favorite sports and teams. And the best part? It's free!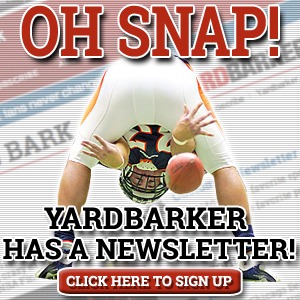 THE COLLEGE FOOTBALL HOT 10