As far as Jared Crick is concerned, what happened during his senior year at Nebraska has little to do with what he can accomplish from this point forward. Crick missed eight games in his final season for the Cornhuskers due to a pectoral tear, probably costing him a chance to get selected in the top two or three rounds of the draft. "Who knows?" said Crick when asked about...
Jared Crick could have possibly chose to go pro a year earlier, but instead returned to Lincoln and had his senior season cut short after tearing a pectoral muscle in the sixth game of the season. Crick leaves Nebraska on the career sacks list and just outside of the top 10 in career tackles for loss.
TEXANS PROFILE: JARED CRICK   With the 126th pick of the 2012 NFL Draft the Houston Texans select Jared Crick, DE from the University of Nebraska.    The Texans hit a homerun with this pick deep in the fourth round not only did they get exceptional value, but they got a second round talent deep in the draft. I believe Jared Crick could have been drafted much higher, but due...
The Houston Texans added another pass rusher in the fourth round, taking Nebraska defensive end Jared Crick. The 6-foot-6, 285-pound Crick made 22 tackles, including three for loss, in an injury-shortened 2011 season. He finished in Nebraska's top in career sacks (20), even after tearing a chest muscle in the sixth game of his final year. Earlier in the fourth round, Houston...
Via AP on Fox
Along with Jared Crick, Alfonzo Dennard was a player that had his name thrown around last year as someone that could have considered coming out early. Dennard returned to Nebraska for his senior year and missed the first three games due to injury. Dennard finished his senior year strong and won the Tatum-Woodson Big Ten Defensive Back of the Year award.
Jared Crick DT Nebraska #94 Ht: 6'4″Wt: 279   Strengths: Impressive athleticism for an interior lineman. Fast enough to chase the quarterback out of the pocket and make some plays in pursuit. Flashes the ability to explode off the snap. Consistently uses athleticism to frustrate bigger, slower interior offensive linemen. Impressive motor; never quits on a play and will...
A 3-4 Defensive End out of Nebraska, Jared Crick is a potential dancing partner for the Indianapolis Colts in the upcoming draft. With the assumed transition to a 3-4 defense and the shopping around of Dwight Freeney the Colts are also badly in the need of a defensive end that can hold the edge. Jared Crick is a potential guy for the Colts to take a look at early in the draft...
After a torn pectoral muscle sidelined Nebraska defensive tackle Jared Crick much of the year, he didn't partake in the bench press at the NFL Combine two weeks ago. But today was Nebraska's pro day and Crick gave it a try. How did he do? Come inside to hear from the Nebraska native.
Past drafts are littered with players like former Green Bay Packer defensive tackle Justin Harrell. A slightly undersized and injury prone defensive lineman, the Packers drafted him in the first round in the 2007 draft. Harrell unquestionably had a good deal of talent, but he only played in two games his senior year, raising some serious red flags. In his four years in the NFL Harrell...
Nebraska senior defensive tackle Jared Crick might be hurt, but it doesn't mean he's put the Huskers in the rear view mirror.
MORE STORIES >>
College Football News

Delivered to your inbox

You'll also receive Yardbarker's daily Top 10, featuring the best sports stories from around the web. Customize your newsletter to get articles on your favorite sports and teams. And the best part? It's free!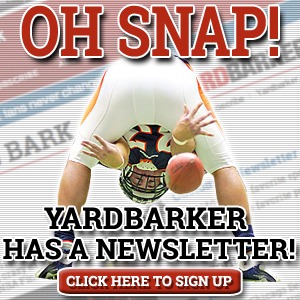 THE COLLEGE FOOTBALL HOT 10