Its that time of the year when San Francisco Bay Area fans get excited for the annual battle between the Stanford Cardinal and the California Golden Bears.This season, we have seen a substantial turnaround from one school, and a complete drop off from the other.Cal started off the season on fire winning 4 out of the first 5 games, and showing a vast improvement from the team that...
BERKELEY, Calif. (AP) California has returned to relevance and respectability in Sonny Dykes' second season as coach. Stanford has slipped back to mediocrity under David Shaw this year. The surprising developments on both sides of San Francisco Bay give the 117th Big Game quite the twist. In a change from recent seasons, Saturday's meeting between Stanford (5-5, 3-4 Pac-12) and...
BERKELEY, Calif. (AP) It's hard to go anywhere near California's campus and not see Jared Goff these days. His picture is on highway billboards, subway cars and fliers. His No. 16 jersey is increasingly worn by fans, and his likeness is on banners. If that's not enough, it's pretty easy to spot the 6-foot-4, blond-haired quarterback walking around the university...
Golden Bears have come a long way from the 1-11 disaster in 2013; quarterback Jared Goff is one of the Pac-12's bright young stars and the 'Bear Raid' offense has proved difficult to stop
The original reality TV show is sports. No contrived setting where seven strangers living in a house or one bachelor searching for love can match...
With his team down by two points and driving, California quarterback Jared Goff took a shot down the field from UCLA's 36 yard line. It might not have been the best decision considering the team was about five yards from being in field goal range, but that's not necessarily the point here. UCLA defensive back Marcus Rios made a play on the ball and seemingly bobbled it out of...
The Cal offense goes by many names: "The System," "Air Raid," "Bear Raid." "The System" sounds like something UC-Berkley students would protest against. Hey man, meet me by Sather Gate at 4:20 pm dude, we're gonna demonstrate against THE SYSTEM broham. There's going to be a massive demonstration on Telegraph Hill. Califiornia Golden Bears Coach Sonny Dykes has...
The University of California's starting quarterback Jared Goff had surgery Wednesday to repair a separated shoulder he suffered in a 63-13 loss to Stanford on Saturday. Goff suffered his injury in the second quarter when he was hit by 6′-3″ 244 lb. Stanford linebacker Shayne Skov. Goff had completed 10 of 19 passes for 194 yds. and a touchdown before being knocked out of...
After further review, California quarterback Jared Goff has set a single-game school record for passing yards. Cal announced Sunday that a third-quarter play originally was credited as a 15-yard run by Chris Harper was actually a 15-yard completion. The change gives Goff 504 yards for the game Saturday against Washington State, one more than the school-record Pat Barnes set Nov...
MORE STORIES >>
College Football News

Delivered to your inbox

You'll also receive Yardbarker's daily Top 10, featuring the best sports stories from around the web. Customize your newsletter to get articles on your favorite sports and teams. And the best part? It's free!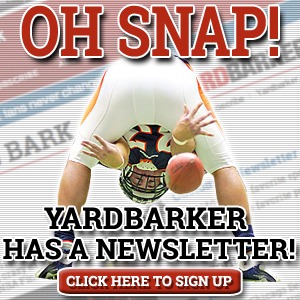 THE COLLEGE FOOTBALL HOT 10