Cheering in the press box is not allowed and that includes former New Orleans Saints quarterback Bobby Hebert. Hebert now a Louisiana radio talk-show host, was removed from the press box at Tiger Stadium during the Alabama Crimson Tide-LSU Tigers game for excessive cheering, reports Pat Forde of Yahoo! Sports. "On Saturday night, Hebert was warned repeatedly about violating...
Stephen Lee, who is an Assistant Coach and Quarterbacks coach at West Texas A&M, was interviewed by WAFB. Lee discussed his son's desire to stay at LSU even after telling him that his best chance to start may be somewhere else, his feelings on returning to Texas to play against Oregon in Cowboy's Stadium in front of friends and family, … Continue reading …
LSU Tiger fans have taken out an ad in the Baton Rouge news paper The Advocate. The ad thanks Jarrett Lee for his contributions to the Tigers 13-1 season, takes a shot at Georgia, and maybe a small stab at Les Miles for not having played Lee in the BCS Championship game. It reads as follows: Thank You Jarrett Lee! … Continue reading …
Jarrett Lee did not see any action during LSU's National Championship Game loss to Alabama despite the ineffectiveness of Jordan Jefferson. Many people wondered why LSU never made a quarterback switch, especially Bobby Hebert, who went on a crazy rant afterwards. Lee spoke about the game recently and said he was frustrated standing on the sidelines. "I just feel like I could...
Jarrett Lee's LSU career ended with him standing on the sidelines as the Tigers dropped the BCS National Championship to Alabama.
Despite opinions to the contrary, the B in BCS does not stand for boring. So, for those who thought the original LSU-Alabama game was a snoozer, take heart: even though its the same teams, this game is likely to be a lot different. The biggest difference will be the LSU offense. During the first meeting in Tuscaloosa, Jarrett Lee led the Tigers at quarterback for most of the game...
As LSU continues its inexorable march to a Jan. 9 date in New Orleans, the Tigers have reportedly found themselves in a similar position to where they began the 2011 season: dealing with off-field issues. Speculation has surfaced that quarterback Jarrett Lee and unnamed other football players may be declared academically ineligible for the postseason.…
Quarterback play was supposed to be LSU's only real weakness. Jarrett Lee has turned it into a strength. Stewart Mandel chronicles Lee's transformation from question mark to stud.
Jarrett Lee says the key to the Tigers upcoming game against Alabama is to stay focused. The starting quarterback talks about preparing for the No. 2 ranked Crimson Tide, LSU having to perform in a hostile road environment and the chemistry he has with his favorite target, Rueben Randle.
Jarrett Lee still remembers being booed by LSU's rabid fans. Just like the redshirt senior quarterback recalls the disgusted stares they used to give him when he went out to eat. He also has not forgotten the hateful Facebook messages they sent him. That was three years ago, when LSU fans vilified Lee during a redshirt freshman season in which he started eight games and threw...
MORE STORIES >>
College Football News

Delivered to your inbox

You'll also receive Yardbarker's daily Top 10, featuring the best sports stories from around the web. Customize your newsletter to get articles on your favorite sports and teams. And the best part? It's free!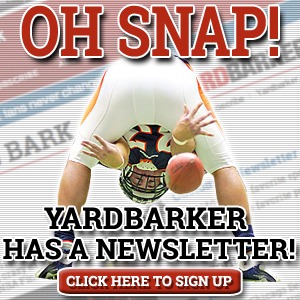 THE COLLEGE FOOTBALL HOT 10