SAN DIEGO (AP) -- Jason Verrett is already familiar with Qualcomm Stadium. It's where he made his first Division I interception, when his TCU Horned Frogs beat San Diego State. "I'd definitely like to get another one out there in a Chargers uniform," Verrett said Thursday night after the Chargers took him with the 25th pick in the NFL draft. Now Verrett needs to...
Day 1 of the draft is complete and the Chargers got a player at a position of need. Jason Verrett has arrived in San Diego and will need to produce day one for the thin Chargers secondary. Verrett was one of the highest rated corners in this year's draft and being picked at 25 is not a stretch. It was a little painful to see Darqueze Dennard go the pick before the Chargers, as...
With the 25th pick in the NFL Draft, the San Diego Chargers drafted former TCU defensive back Jason Verrett. At 5'9″, Jason Verrett is a bit undersized. What he lacks in size he makes up for with his footwork and ball skills. Big receivers gave him trouble in college and in a division that has a couple of them, it will be interesting how the rookie handles the pressure to preform...
25th Overall Pick: Jason Verrett, CB, TCUThis was a very predictable selection. The Chargers must have been thrilled that Dennard fell to Cinci which guaranteed one of the first round CB prospects would still be available for them. Verrett is a very talented corner who didn't go higher because of his size. Had he been a few inches taller, you could have made the case for him...
  Manish Mehta of the New York Daily News reports that the Jets are hosting cornerbacks Jason Verrett (TCU) and Darqueze Dennard (TCU) this week. Mehta also reported that the Jets will meet with a number of receiver prospects including USC WR Marqise Lee, LSU WR Odell Beckham Jr. and Oregon State WR Brandin Cooks as well. Verrett has reportedly met with the Steelers...
Jason Verrett CB TCU #2 Ht: 5'10″ Wt: 189 All of our scouting reports are limited to our premium customers. If you would like access to all of our 2014 scouting reports, click here to sign up. Size/Athleticism: Less than ideal height and overall bulk. Very short arms (30.5″) which further limits his ability to be effective against bigger receivers. Elite speed. A very...
The San Francisco 49ers have an obvious need for a cornerback and it seems likely that the need would be fixed in the first round of the 2014 draft. If there was any player who is on people's draft boards who might be getting overlooked, it is cornerback Jason Verrett out of TCU. Verrett is likely to be overlooked because of his small size, standing at 5'10. For a corner...
After a lengthy examination then re-examination process TCU cornerback Jason Verrett has decided to undergo surgery to repair his injured labrum. Here's why. Speaking with those from Verrett's camp this evening I found out most of the news from doctors re-examining his injured labrum was positive. Verrett was offered two options; 1) rehabilitate his injured labrum without...
TCU cornerback and NFL Draft hopeful Jason Verrett used the combine stage to showcase his skills, like most prospects do. However, he also made an announcement: he had played most of his senior season with a shoulder injury.Verrett will have surgery on the injury March 21, after TCU's on-campus pro day.  Last season, cornerback Dee Milliner followed a similar path, choosing...
With Texas Tech tight end Jace Amaro coming over the middle, TCU's Jason Verrett absolutely lays the boom with huge hit - dreadlocks and all.
MORE STORIES >>
College Football News

Delivered to your inbox

You'll also receive Yardbarker's daily Top 10, featuring the best sports stories from around the web. Customize your newsletter to get articles on your favorite sports and teams. And the best part? It's free!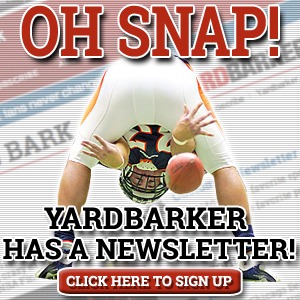 THE COLLEGE FOOTBALL HOT 10