The offensive line that will hit the field for the Yellow Jackets this season will have better size, athleticism, and most importantly substantial experience since the inception of the Coach Johnson triple option era that commenced in 2008.  Having some heft in the interior guard/center portion of the line will finally help open some running lanes in the A and B gaps with greater...
In order to become a highly recruited elite player you have to either be invited or figure out a way to show up at some manufacturer's sponsored combine event and display your talents to the recruiting site experts. If not, then you are quickly relegated to the category associated for lesser talented players with a very limited upside potential. Coach Paul Johnson of the Georgia...
Greetings- A couple notes for you. 1. Neither center Jay Finch (lower leg) nor guard Will Jackson (neck) practiced again Wednesday. Jackson is expected to return Thursday. Coach Paul Johnson told reporters after Wednesday's practice that Finch will have to return to practice by early next week in order to play in next Thursday's game against Virginia Tech. "We think he's...
Center Jay Finch (leg) and guard Will Jackson (neck) did not practice Tuesday as Georgia Tech returned to the practice field for the first time since defeating Clemson Saturday night. Johnson said he was hopeful Finch could return to practice this week as Georgia Tech prepares for Virginia Tech next Thursday. Johnson said tests found nothing wrong with Jackson's neck, so "it's...
Greetings- First, sorry about the filters. It seemed like they were out of control today. I apologize. Here are the notes. As you may have already read, it doesn't look good for Jay Finch to play Saturday, which is not good for a couple different reasons. Nothing against Nick McRae, but he's quicker off the ball than McRae and is just more experienced. Onto the notes. 1. Georgia...
Georgia Tech center Jay Finch will likely miss the Yellow Jackets' Saturday night game against Clemson with a lower leg injury. Coach Paul Johnson said Finch is "probably out" for the game after Wednesday's practice. Finch sustained the injury on Tech's first play from scrimmage in last week's loss to Miami. He was replaced by Nick McRae, who will likely be Finch's...
MORE STORIES >>
College Football News

Delivered to your inbox

You'll also receive Yardbarker's daily Top 10, featuring the best sports stories from around the web. Customize your newsletter to get articles on your favorite sports and teams. And the best part? It's free!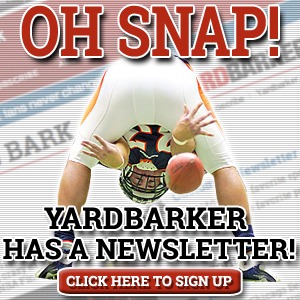 THE COLLEGE FOOTBALL HOT 10