MADISON, Wis. -- Jeff Duckworth won't disclose how far from 100 percent he actually feels these days. The bulging discs in his lower back surfaced a couple of years ago, and he never knows the excruciating pain levels he'll feel when he wakes up each morning. "The only thing I can really get done is a fusion, which I don't want to do," Duckworth said. &quot...
He made one of the most memorable catches in Wisconsin postseason history, but receiver Jeff Duckworth wants to be known for more than one play in his final season with the Badgers.
Just before camp began earlier this month we took a look at where Wisconsin stood at the various position groups for you. Well, camp is over and with it things have changed at multiple positions. It begs the question of just how accurate we were in predicting starters and/or giving you players to watch.  With that, it's only fair that we revisit the things that were said and...
Even with one quarterback already in the fold for the class of 2014, Wisconsin football is still keeping its eyes on junior signal callers, including Louisville (OH) junior Jeff Duckworth.
courtesy Dan Sanger/BadgerBlitz After a spring game performance that left a lot to be desired from the wide receiver group (and that's being nice) many thought this would easily be the weakest and most worrisome position group on the offensive side of the ball for Wisconsin. Fast forward to day number nine of Badgers camp and the question is shifting from can anyone...
This is from this past Saturday's Big Ten Championship game. Yes, we know it's old and you've probably seen it elsewhere, but it had to be posted here and I wanted to give our own Brady Green some time to recover before putting up things that might make him cry. You see, he's a big Michigan State fan and Sparty nation is still in mourning, but I wanted to get the...
He wasn't the game's MVP or the guy that scored four touchdowns but without sophomore wide receiver Jeff Duckworth pulling in a 36-yard pass on a fourth-and-6 to set up the winning touchdown, the Badgers would likely be in Florida for the post season and not Southern California.
Snap judgments on Saturday's best. ECONOMICS • Russell Wilson and Jeff Duckworth, Wisconsin. Recalling the emotional dagger Michigan State stuck in the Badgers' undefeated season on a last-second Hail Mary in October, Wilson and Duckworth paid the Spartans back and then some Saturday night on a fourth down, 36-yard heave into coverage with a little more than four minutes...
Gus Johnson took some deserved criticism Friday night when he desperately tried to convince viewers UCLA still had a chance to upset Oregon late in the Ducks' 49-31 blowout of the Bruins, but fans of the spirited FOX announcer quickly came back on board when this Jeff Duckworth catch sparked one of his patented moments of booth ecstasy. Wisconsin went on to score the touchdown...
MORE STORIES >>
College Football News

Delivered to your inbox

You'll also receive Yardbarker's daily Top 10, featuring the best sports stories from around the web. Customize your newsletter to get articles on your favorite sports and teams. And the best part? It's free!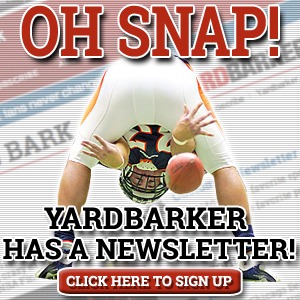 THE COLLEGE FOOTBALL HOT 10