SEATTLE - Over a thousand Washington Football fans were on hand to check out UW's second open practice of the fall, and while they didn't get to see live scrimmaging, they did get to see some 11-11 team work, some turnovers made, and some touchdown passes thrown. We spoke to Jonathan Smith, Chris Strausser, John Ross, Colin Tanigawa, and Jeff Lindquist to get their thoughts.
SEATTLE - Scrimmaging is always a major highlight of camp, and Thursday night saw the Washington Huskies go live for the first extended period since they kicked off spring football March 4th. The Dawgs went roughly 50 plays, split between Jeff Lindquist and Troy Williams at quarterback. The results, as you would expect, were mixed - depending on which side of the ball you were on.
SEATTLE - Jeff Lindquist said it best: they had no idea what to expect. The Washington Huskies started spring football Tuesday, and it was all in the unknown. All the players had been recruited by Steve Sarkisian, but they were playing for Chris Petersen now, so how would they embrace the change? And what exactly would that change be?
SEATTLE - Dawgman.com spoke to a number of players and coaches Tuesday morning at the Dempsey Indoor Facility to get their thoughts on how Day One of Washington Spring Football went. We talked to Chris Petersen, Jonathan Smith, Brent Pease, Jeff Lindquist, Jaydon Mickens, John Ross, DiAndre Campbell, Dwayne Washington, Ben Riva, and Mike Criste to get their takes on the day.
Unquiet on the Western Front - Your Pac-12, Mountain West, and BYU extravaganza.  Hold on to what you've got. Washington starting quarterback Keith Price could find himself competing for his starting job during spring practice against freshmen Jeff Lindquist and Cyler Miles. Yes, someone in America named their kid "Cyler." Pray for our country. (Pacific Takes...
MORE STORIES >>
College Football News

Delivered to your inbox

You'll also receive Yardbarker's daily Top 10, featuring the best sports stories from around the web. Customize your newsletter to get articles on your favorite sports and teams. And the best part? It's free!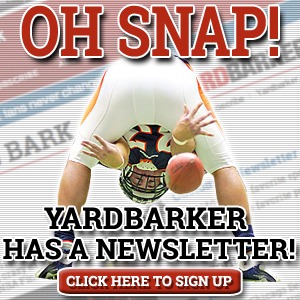 THE COLLEGE FOOTBALL HOT 10