Jerry Jones made it official: Monte Kiffin is returning as the Dallas Cowboys' defensive coordinator. While speaking to reporters Monday at the Senior Bowl in Mobile, Ala., Jones finally made it clear that Kiffin would return for a second season despite a historically bad season on defense. Well, as clear as a Jerry Jones quote can be. "Do you discuss and get input about...
IRVING, Texas A 10-pack of Dallas Cowboys mini-scoops from inside Valley Ranch, where the firing of defensive coordinator Rob Ryan is creating a ripple effect on other moves: 1. Cowboys owner Jerry Jones, I'm told, assembled a "short list'' of desirable Ryan replacements before the Tuesday dismissal of the high-profile coordinator. If the Cowboys get their wish...
With how poorly the Cowboys played in losses to the Seahawks and Bears and even during a win over the Buccaneers, a 2-2 record might be better than what they deserve.On Tuesday, Cowboys owner and general manager Jerry Jones gave his thoughts on where his team sits entering Week 6. Despite being outscored by a 61-25 total in their two losses, the Cowboys are fortunate that each team...
The Cowboys have looked nothing like a playoff team in their last three games. Expectations were high after a season-opening victory over the defending Super Bowl champs, but losses to the Seahawks and Bears and an ugly win over the Buccaneers have left the Cowboys looking like a .500 team at best. Even Jerry Jones had a difficult time putting a positive spin on how his group has...
ARLINGTON, Texas -- Jerry Jones spoke with the media after Monday night's loss to the Chicago Bears and as was the case with the players in the locker room, Jones was disappointed."Overall, we met a Chicago team that made big plays with the ball, they took care of the ball and we didn't, and we got beat soundly," the Cowboys owner and general manager said. &quot...
Jerry Jones and Victoria's Secret have teamed up and are set to open a brand new Victoria's Secret store inside Cowboy's stadium. They are planning to have a ribbon cutting ceremony before its opening on October 1st, just before the Cowboys take on the Chicago Bears in the next Monday Night football game. In attendance for Victoria's Secret will be 'Pink' models Elsa...
For years, Jerry Jones' pride and joy — the Cowboys — had the honor of being dubbed 'America's Team.' It's a moniker that carries more weight than most, considering the popularity of the sport among the country. Now, technically, it would be incorrect to refer to Dallas as such — another team has claimed the title. In a survey conducted by Public Policy Polling, 22...
Jerry Jones knows that his team missed some great chances to pick up a few wins earlier in the season that would have made the schedule in November and December much easier. But, after dropping games against the Jets, Lions and Patriots that they let slip through their hands, Jones knows the Cowboys path to the playoffs only leads one way. "It's very early and I wouldn...
MORE STORIES >>
College Football News

Delivered to your inbox

You'll also receive Yardbarker's daily Top 10, featuring the best sports stories from around the web. Customize your newsletter to get articles on your favorite sports and teams. And the best part? It's free!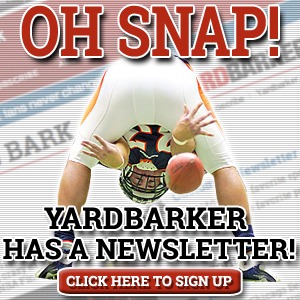 THE COLLEGE FOOTBALL HOT 10