The Penn State football program may be eligible for postseason play this season and will have its full complement of scholarships next year. But in no way does that make up for the damage that the Jerry Sandusky sexual abuse scandal caused its athletic department According to this study by USA Today, Penn State's athletic department has lost $90 million since 2011 (h/t Business...
Penn State has settled with one of Jerry Sandusky's sexual abuse victims, according to a report in the Philadelphia Inquirer.  Sandusky is a former assistant football college at Penn State who worked under Joe Paterno. The victim is the first individual related to the Sandusky case to settle his civil suit against the university.  Known as victim number 5, the man was sexually...
BECOMING A TREND
Two letters penned by disgraced former Penn State football coach Jerry Sandusky have been obtained by the media, in which he proclaims his total innocence.
NOT OVER YET
The legal team for Jerry Sandusky argued in court on Thursday that he deserves a new trial because they didn't have enough time to prepare for the first one.
BEHIND BARS
Here's a photo of four Iowa students who decided to dress up as Jerry Sandusky for the Iowa vs. Penn State Big Ten match-up in Iowa City.                                                                                                                          ...
HAMMER OF JUSTICE
The former Penn State coach reportedly has been sentenced to between 30-60 years. Sandusky was found guilty on 45 of 48 counts of sexual abuse.
Maybe he's going crazy, or he's drinking his OWN KOOL-AID, as Jerry Sandusky is claiming that he's the real victim in his Penn State sex abuse scandal. Sandusky, who recorded a dramatic statement from his jail cell on the eve of sentencing for the Penn State sex abuse case, is accusing everyone from his victims, the media, and Penn State itself of orchestrating his convention...
The Penn State saga is far from over as now the university as a whole is under fire. The college's accreditation officially hangs in the balance as they have been issued a warning by the Middle States Commission on Higher Education which handles such matters. Penn State has publicly responded to the potential of losing their accreditation status in the fallout of the mess that...
WE ARE SORRY
The Nittany Lions football team will be adding blue ribbons to their jerseys to support the victims of child abuse, as well as one more modification to recognize the players who did not transfer.
Lawyers representing Victim 2 — the young boy Mike McCreary saw Jerry Sandusky molesting in the Penn State shower back in 2001 — have released two voicemails that date back to September of 2011. Sandusky, a former Penn State assistant football coach, was indicted on child sexual abuse charges in November 2011. You hear Sandusky leaving two messages for Victim 2 that end with "love you."
MORE STORIES >>
College Football News

Delivered to your inbox

You'll also receive Yardbarker's daily Top 10, featuring the best sports stories from around the web. Customize your newsletter to get articles on your favorite sports and teams. And the best part? It's free!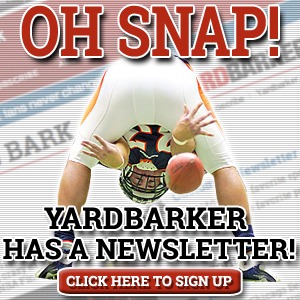 THE COLLEGE FOOTBALL HOT 10