Recapping all the weekend Kansas State sports action Football Kansas State lost to Vanderbilt 14-7 in a tightly contested game between two defenses that showed up to play. Jon Morse's recap wonders out loud re: What Did We Learn? The answer seems to be that we learned our offense can be shut down by a stifling defense that takes away our run game entirely. There were flashes...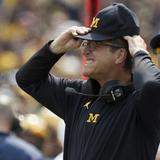 If you love crisp, clean college football action, then Week 3 probably left you feeling a measure of disappointment. Some of the top teams and players in the nation struggled against competition that — on paper — was supposed to be nothing more than a speed bump on the highway of success.A few of the top quarterbacks in the nation took some steps in the wrong direction. Jim Harbaugh's...
So many things went wrong that shouldn't have. On 4th and 8 from the Vanderbilt 19 with about a minute to play, Jesse Ertz dropped back to throw. As they had been all night, his receivers were covered, and Ertz saw a lane. He took off. He came up two yards short, and just like that the 18th-ranked Wildcats dropped a 14-7 decision to Vanderbilt Commodores at Vanderbilt Stadium...
The only things working are Jesse Ertz's legs and... the defense? It's halftime in Nashville, and Kansas State should be leading Vanderbilt 14-7, but apparently the replay booth is being staffed by drunken wildebeests. A Kyle Shurmur fumble, which was absolutely a fumble because the ball was turning end-over-end in his grasp before he even began his downward trajectory, was...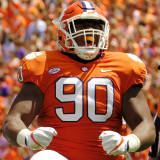 Huge upsets, surprising loses and super star performances – Week 1 of NCAA football had it all. With teams reeling or glowing from a glorious opening week, Week 2 promises to be just as exciting.Whether its another battle of ranked teams, or schools looking to continue a strong start to the season, this week of college football should be just as exciting. Here are some intriguing games to watch.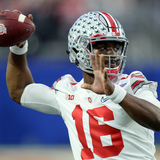 Who will lead the way for the nation's best teams in 2017? College football is almost upon us, and with the release of the AP Top 25, we're talking a look at a key player from each of the ranked teams who will have a big say in how things go for their program this season.1. Alabama — Bo ScarbroughIf you want to know anything about the running back's importance to the Crimson...
HOUSTON -- Jesse Ertz threw for 195 yards and a touchdown and ran for two more scores in Kansas State's 33-28 victory over Texas A&M in the Texas Bowl on Wednesday night.Ertz had a 79-yard touchdown pass and scoring runs of 1 and 5 yards to help give Kansas State its fourth straight win and first bowl victory since the 2013 Buffalo Wild Wings Bowl.The Wildcats (9-4) led by five...
FORT WORTH, Texas -- Jesse Ertz and Kansas State rushed to the end of coach Bill Snyder's 25th regular season, and to another bowl game.Ertz ran for a career-high 170 yards with a touchdown and Justin Silmon had 133 yards rushing with two touchdowns as the Wildcats won 30-6 at TCU on a drizzly Saturday."We just did what we do. I don't think there was any secret or anything new we...
Kansas State Wildcats quarterback Jesse Ertz suffered a knee injury just two snaps the team's 34-0 win over South Dakota in the season opener, and it's looking like he will be out for an extended period of time. Speaking on a conference call, coach Bill Snyder offered more. "Jesse is going to be out for quite some time," Kansas State head coach Bill Snyder on the Big 12...
Bill Snyder has found his man at the quarterback position. Jon Parton, of the K-State Collegian is reporting that sources have informed him Jesse Ertz will be named the starter for the 2015-2016 season. The competition was between Ertz, junior Joe Hubener, sophomore junior college transfer Jonathan Banks and true freshman Alex Delton. Ertz had all along been considered the favorite...
MORE STORIES >>
College Football News

Delivered to your inbox

You'll also receive Yardbarker's daily Top 10, featuring the best sports stories from around the web. Customize your newsletter to get articles on your favorite sports and teams. And the best part? It's free!
THE COLLEGE FOOTBALL HOT 10