There had been some question whether Jerry Neuheisel would get the start ahead of the banged up Brett Hundley at quarterback for UCLA in tonight's game at Arizona State. With a few hours to go before kick-off at Sun Devil Stadium, it appears that Jim Mora will give his star, Hundley, the nod.  Brett Hundley listed as the starter for @UCLAFootball tonight. — CollegeFootball...
UCLA already knows it won't face Arizona State's starting quarterback, Taylor Kelly, in a huge Pac-12 matchup a week from Thursday. There are also question marks surrounding the Bruins' starter at the position, but their head coach has decided to play things close to the vest for the time being. Brett Hundley suffered an elbow injury in the first quarter of the Week 3 win...
Brett Hundley injured his elbow in the first quarter of UCLA's comeback win over Texas in Arlington last weekend, leaving many Bruins fans (and curious parties) wondering about his status for the Arizona State game. Here's the thing: there is no status update because coach Jim Mora is choosing not to provide one. Unlike the […]
With UCLA and Texas set to square off this weekend at AT&T Stadium in Dallas, several stories have popped up about UCLA head coach Jim Mora and how – if circumstances had been different – he might be the head coach of the Longhorns. While Mora has consistently claimed that he turned down the job at Texas to remain at UCLA, sources close to both programs have told us that...
Football coaches bounce around like pingpong balls. It's the world they live in. Sometimes, it's their choice. A lot of times, it's not. Jim Mora was over the bouncing, or as he calls it, the perpetual climb that's as much a part of the coaching profession as calling plays and motivating players. If not, Mora could just as easily be strolling the Texas sideline...
As the expectations continue to grow around the UCLA football program, head coach Jim Mora made it clear that the expectations within the program have grown as well. As training camp opened on the campus of Cal State San Bernardino, there were three high-profile freshmen visibly absent. And receiver Jordan Lasley, quarterback Aaron Sharp and linebacker Dwight Williams will all remain...
UCLA football Coach Jim Mora doused a Texas brush fire Friday morning. There were reports that Longhorns officials and Mora's representative were in discussions for Mora to replace Mack Brown as coach. Asked about the rumors, Mora said told the Los Angeles Times, "It is always flattering when someone is interested in you. But I am committed to being the UCLA coach.&quot...
The Texas Longhorns are reportedly "very interested" in Jim Mora as their next head coach.
The UCLA Bruins defeated USC tonight in the Battle for Los Angeles, and nobody was more excited than head coach Jim Mora. He was glowing in his postgame interview for ABC, and he specifically raved about his quarterback, Brett Hundley. In fact, he tried to get Hundley to announce on national television that he would be returning for another season: Was this wishful thinking by Mora...
UCLA Bruins coach Jim Mora was not at all happy with a disrespectful reporter while he was trying to talk about Nick Pasquale, who died tragically in a car accident.
MORE STORIES >>
College Football News

Delivered to your inbox

You'll also receive Yardbarker's daily Top 10, featuring the best sports stories from around the web. Customize your newsletter to get articles on your favorite sports and teams. And the best part? It's free!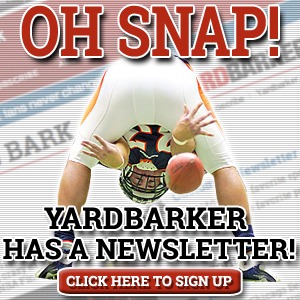 THE COLLEGE FOOTBALL HOT 10