Don't mind Jim Tressel, he's just out here dropping Tupac lyrics on Twitter like a boss. Keep your head up, Coach.
WEALTH OF EXPERIENCE
Former Ohio State Buckeyes head football coach Jim Tressel will be teaching the class "General Principles of Coaching" at the University of Akron this fall.
Maurice Clarett, the former star Ohio State Buckeyes running back who was suspended and eventually released from his scholarship and the school after filing a false police report and totaling $20,000 in benefits apparently doesn't hold any hard feelings towards the man that brought him to the school. Clarrett either immortalized Jim Tressel, the former OSU head coach, with a...
COLUMBUS, Ohio (AP) -- The Ohio Supreme Court has suspended for a year the law license of an attorney whose emails to Jim Tressel triggered an ongoing scandal and NCAA investigation that cost the coach his job at Ohio State. At issue was whether Columbus attorney Christopher Cicero violated professional rules of conduct that prohibit revealing information from meetings with a client...
WELCOME BACK
He may be the reason Ohio State is banned from the postseason this year, but Buckeyes fans gave former coach Jim Tressel an extremely warm reception on Saturday.
Former Ohio State coach Jim Tressel has joined a local TV station as a special contributor. Tressel, who was forced out as the Buckeyes coach after 10 years at the school by a cash-for-tattoos scandal involving players, will do a weekly report for WKYC-TV. ''A Moment With Jim Tressel,'' will air each Wednesday during the station's 7 p.m. newscast. Tressel currently...
For years and years, Ohio State fans complained about the ultraconservative playcalling of coach Jim Tressel and his offensive coordinator, Jim Bollman. Even as the wins piled up, they derisively referred to it as ''Tresselball,'' a bland blend of not doing anything risky offensively while leaning heavily on your defense and kicking games. Then Tressel stepped down...
  Jim Tressel is a man who did everything he could for The Ohio State University; during his years as head coach he embodied what it meant to be a Buckeye and was someone Buckeye Nation was proud to have on the sidelines. With him as head coach, the football team won the Nation Championship and six conference titles while he took the team to the post season each and every year....
Former Ohio State defensive back William White (1984-1987) was asked to compare new Buckeye head football coach to disgraced former Buckeye HC Jim Tressel. White has some direct connections with Meyer, as Meyer was an graduate assistant coach roaming the sidelines of the Horseshoe during White's playing days. "Asked what the differences between Meyer and the highly...
The University of Akron gets the publicity it apparently both wants and needs. Jim Tressel gets his first full-time job in nine months and his first non-football job in, well, probably ever. But when it comes to Tressel's fancy new job and job title at Akron -- vice president for strategic engagement -- there are more questions than just what, exactly, a vice president for...
MORE STORIES >>
College Football News

Delivered to your inbox

You'll also receive Yardbarker's daily Top 10, featuring the best sports stories from around the web. Customize your newsletter to get articles on your favorite sports and teams. And the best part? It's free!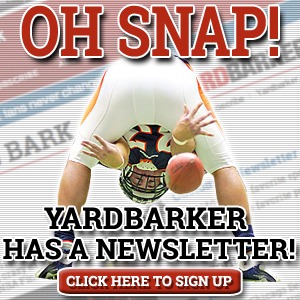 THE COLLEGE FOOTBALL HOT 10