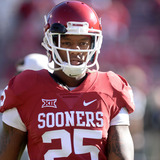 Yet another alleged incident involving former Oklahoma running back Joe Mixon has given NFL teams reason to be concerned leading up to the NFL Draft.In an appearance on PFT Live Wednesday morning, longtime talent evaluator Gil Brandt revealed that NFL teams have been inquiring about an incident in high school in which Mixon was accused of punching a fellow student who was a female...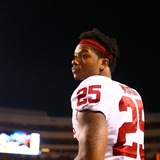 As the 2017 NFL Draft nears, former Oklahoma running back Joe Mixon remains the most divisive player potentially set to be drafted next week.A first-round talent, Mixon could see a dramatic tumble down the draft boards after a video was released late last year showing Mixon punching a woman during an altercation back in 2014 (more on that  here).Despite a tremendous skill level and...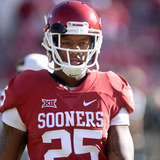 It seems like the NFL continues to shy away from controversial running back Joe Mixon ahead of the 2017 NFL Draft.Or it's a smokescreen. Draft season is fun, right?Mixon is the guy with the biggest character flag of all in the class thanks to an off-field incident in which he punched a woman in the face. It being caught on video is the main reason for the uproar, and yes, the NFL...
San Francisco 49ers cornerback Tramaine Brock was arrested early April 7th for a domestic violence incident. The 49ers promptly released him, and this was their full statement on the matter: "The San Francisco 49ers announced on Friday that they have released cornerback Tramaine Brock." General Manager John Lynch sent a strong message with this move, and in the process, began the...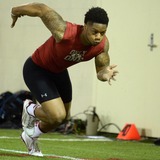 No one really knows where Joe Mixon will be taken in next month's NFL Draft, but the general consensus among scouts and talent evaluators is that the former Oklahoma running back has incredible potential.Mixon has little chance of being selected ahead of Leonard Fournette, Dalvin Cook and possibly Christian McCaffrey, but that has everything to do with his off-field issues. Just...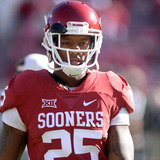 If not for Joe Mixon's disturbing history of off-field drama, there would likely be three and possibly four running backs projected to be taken in the first round of the NFL Draft next month. And according to one scout, Mixon is the best of the bunch from a skill standpoint.Ben Volin of the Boston Globe was told by an NFL scout at the Scouting Combine that Mixon is a better prospect...
Neither Joe Mixon nor Chad Kelly were invited to this year's NFL Scouting Combine thanks to a rule that could be changing in the near future.The exclusion rule keeps players who have been involved in certain types of crimes from attending the combine. However, this rule isn't sitting well with at least some of the teams heading into this year's combine."The Competition Committee...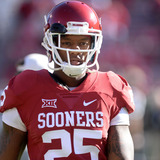 Despite being involved in an incident similar to the one that ended Ray Rice's playing career, former Oklahoma running back Joe Mixon is likely going to be drafted by an NFL team in April. I mean, there are worse people playing in the NFL right now anyway, right?That's the logic one scout used when speaking with Albert Breer of The MMQB. The scout, who is assigned to the Sooners...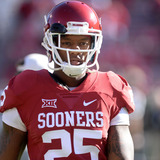 There's very little doubt that Joe Mixon is an elite-level talent. In fact, on the field, it's possible he's the most-talented running back in the 2017 NFL Draft.Despite this, Mixon was not invited to take part in the annual NFL Scouting Combine that starts later this month in Indianapolis. It shouldn't be a huge surprise that Mixon wasn't invited to show off his talents in front...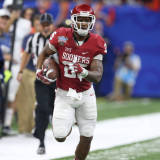 By Jesse Reed One day after Joe Mixon announced he was foregoing his senior season to enter the 2017 NFL Draft, a report indicates he might not even be drafted this April. This information comes by way of Bleacher Report's Matt Miller, who cites the recent release of the video in which Mixon can be seen decking Oklahoma student Amelia Molitor back in 2014. "While the crime was...
MORE STORIES >>
College Football News

Delivered to your inbox

You'll also receive Yardbarker's daily Top 10, featuring the best sports stories from around the web. Customize your newsletter to get articles on your favorite sports and teams. And the best part? It's free!
THE COLLEGE FOOTBALL HOT 10