Penn State head football coach Bill O'Brien will begin 2014 as the new head coach of the Houston Texans, according to multiple news reports. O'Brien — who took over the crippled Nittany Lions in the wake of the Jerry Sandusky child sex abuse scandal and Joe Paterno's resignation under fire — was fed up with Penn State and Paterno's overzealous supporters. 
JOE HOLLYWOOD
The lead in the upcoming Joe Paterno biopic has finally been cast, and unsurprisingly, the film was able to land an iconic A-list actor.
BEHIND BARS
Here's a photo of four Iowa students who decided to dress up as Jerry Sandusky for the Iowa vs. Penn State Big Ten match-up in Iowa City.                                                                                                                          ...
Oscar-winning actor, Joe Paterno has already portrayed a head coach in a fictional story about a professional football team. The role, Tony D'Amato, was legendary coach, well past his prime, trying to hold on for one more run with a brash young QB. Any Given Sunday, was directed by Oliver Stone, and while it was [...]
Penn State alumnus (and NFL Hall of Famer) Franco Harris brought a cardboard cutout of Joe Paterno to his luxury box at Beaver Stadium for Saturday's PSU football game against Ohio. The Paterno cutout held a sign reading "Due Process for PSU JVP". We understand Harris' loyalty to his college coach, and he's entitled to express his opinion, but the...
CONTINUED SUPPORT
The guy on the left is a conservative talk show host named John Ziegler. The guy on the right looking like a slob is Steelers legend Franco Harris. Both men think Joe Paterno was unjustly treated by the NCAA. Ziegler, once fired from a sportscasting job for on O.J. Simpson joke, is from Pennsylvania and ended up in the Harris box at today's Ohio U. game. For some reason both...
BEHIND THE SCENES
GQ has published excerpts from Joe Posnanski's soon-to-be-released biography of Joe Paterno and in it, Paterno's reaction to his dismissal from Penn State is featured.
Now, let me state one thing right away. I am in no way comparing the two for their transgressions. Joe Paterno allowing a known predator to operate in his midst was awful. But murdering your wife and young son in cold blood is a whole other level.
DON'T GO THERE
One Penn State fan equated the NCAA penalties against the school to what the country went through during the 9/11 attack.
MORE STORIES >>
College Football News

Delivered to your inbox

You'll also receive Yardbarker's daily Top 10, featuring the best sports stories from around the web. Customize your newsletter to get articles on your favorite sports and teams. And the best part? It's free!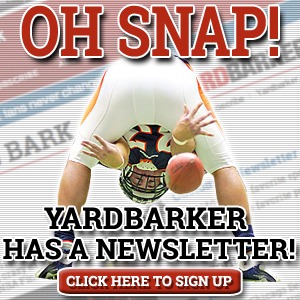 THE COLLEGE FOOTBALL HOT 10