Full on damage control, or brutal honesty? Considering what took place from Saturday night to Tuesday night, it's telling that Wisconsin athletic director Barry Alvarez had to come out and speak to the media to quell some of the firestorm building up.  On Wednesday, Alvarez spoke to Andy Baggot of the Wisconsin State Journal about the last of a PR nightmare — the Joel Stave...
Just when you thought things couldn't get any more frustrating/bizarre for Wisconsin Badgers football fans, a confounding situation involving quarterback Joel Stave unfolded Tuesday. In the morning, Wisconsin officials announced that Stave would be out indefinitely with an injury in his throwing shoulder. This seemed to make sense, considering how many questioned head coach Gary...
Joel Stave started all 13 games for the Wisconsin Badgers in 2013, throwing for nearly 2,500 yards and 22 touchdowns. So it was a bit of a surprise when Stave sat out the team's 2014 opener, a 28-24 loss to LSU. A few days later, Badgers head coach Gary Anderson appeared to have the answer, revealing that Stave would be shut down indefinitely because of an injury to his throwing...
Wisconsin quarterback Joel Stave led the Badgers to a 9-4 record last season and an appearance in the Capital One Bowl, which is one of the bigger non-BCS bowl games. Stave, now a junior, threw for 2,494 yards, 22 touchdowns and 13 interceptions last season but has been unable to play this year because of […]
Joel Stave and Tanner McEvoy.(Twitter/@BTNTomDienhart) Over the weekend, there was a ton of confusion over Melvin Gordon's lack of touches in the second half. Head coach Gary Andersen and Gordon seemed to be out of sync in terms of the issue, and now it looks like Andersen is having similar communication breakdowns when it comes to quarterback Joel Stave.  Previously, Andersen...
Now we know why Wisconsin played QB Tanner McEvoy all game in the loss to LSU. The true starting QB, Joel Stave, is lost indefinitely. He's shut down for a very long time, and don't be shocked if he doesn't return at all this season. UW head coach Gary Andersen announced Tuesday, regarding Joel Stave: "Joel has been dealing with some issues with his throwing shoulder for...
It's been a tough week for Wisconsin fans. First, the Badgers blew a sizable lead against the LSU Tigers in their opening contest. Now, they've got trouble on the injury front. Junior quarterback Joel Stave, who started all 13 games for the team last season, will be out "indefinitely" due to an issue with his shoulder. Stave did not start this past Saturday night, as head...
So much for conventional wisdom and "seeing the way things are going" in practice. Most of the conventional thought from the media covering the Badgers at fall camp was that Joel Stave had pulled ahead of fellow junior Tanner McEvoy and would be the guy coming out of the tunnel leading the team against LSU. However, Jeff Potrykus of the Milwaukee Journal Sentinel is reporting...
MADISON, Wis. -- The way Joel Stave sees it, this whole quarterback competition to begin Wisconsin's fall football camp is old hat. What hasn't he seen as he enters his third straight season in a battle to be the Badgers' starter? How much more mentally prepared can he really be? There is, of course, a fair amount of pressure that comes with trying to be the No. 1 signal...
MADISON, Wis. -- Joel Stave would like to make it clear he isn't a perfectionist. Except that, after pausing for a few seconds to think about it, he decides that, yeah, maybe he is. "Kind of I guess," Stave said with a smile after Tuesday's practice. Wisconsin's starting quarterback has set high goals for himself -- sometimes so high that they might not even...
MORE STORIES >>
College Football News

Delivered to your inbox

You'll also receive Yardbarker's daily Top 10, featuring the best sports stories from around the web. Customize your newsletter to get articles on your favorite sports and teams. And the best part? It's free!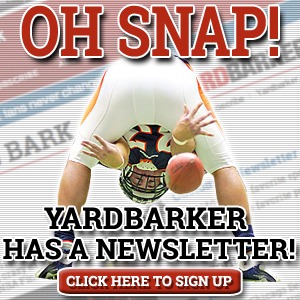 THE COLLEGE FOOTBALL HOT 10