Johnathan Gray asked a fateful question before his team's last game. ''What does it feel like to tear an Achilles?'' Gray asked one of the trainers. ''Is it like somebody kicked you or is it like a knife?'' Gray got the answer to his question in a painful way when he caught a short pass from Case McCoy early in the third quarter of the Longhorns...
The Texas Longhorns won in overtime at West Virginia Saturday night 47-40, but lost two starters for the season. Sophomore running back Johnathan Gray suffered a torn achilles tendon that will require surgery. Gray had 159 rushes for 780 yds. and four touchdowns for the year. He had been on pace to become the first Longhorn running back to gain over 1000 yds. since Jamaal Charles...
College football week 7 delivered, in a big way, what we had previously been missing.  While much of the first half has been fairly predictable (though certainly not boring), this Saturday yielded a shakeup that stunned multiple ranked teams. A quick rundown of the highlights: #20 Texas Tech, #9 Texas A&M, and #3 Clemson all survived close calls to avoid joining the lengthy...
The Big 12 says there was no indisputable video evidence showing game officials made a mistake in ruling a Texas running back was down before the ball came loose late in the fourth quarter of the Longhorns' 31-30 win over Iowa State. The Cyclones appeared to strip the ball from Texas' Johnathan Gray with about 1 minute to play. The call on the field was that Gray was down...
The Iowa State Cyclones got  hosed and head coach Paul Rhoads wasn't very happy about it. Rhoads went nuts in his postgame press conference after his team, which was leading 30-24 with under a minute to play, ended up losing to the Texas Longhorns after the refs botched a game-changing call. Texas running back Johnathan Gray appeared to cough up the ball at the goal line and...
Paul Rhoads is mad — really, really, steaming angry mad — after his Iowa State team lost 31-30 to Texas tonight. Not only was his team frustrated by some dirty play from the Longhorns, but by the refs as well. Late in the game, with the Cyclones leading 30-24, Johnathan Gray was stood up by the ISU defense on the goal-line, and appeared to be stripped. The ISU defender took...
(Photo credits: CBSSPORTS.COM) The University of Texas entered what seemed to be a must win game this Saturday against rival Kansas State, with all of the talk surrounding Mack Brown & his future at UT it was important for the Longhorns to come away with a W. Mission accomplished, the Horns beat Kansas State 31-21 […]
Let's hand out some awards for Week 4 in the Big 12. Best offensive performance: Johnathan Gray, RB, Texas. Gray logged a career-high 141 yards and two touchdowns to lead the Longhorns to a 31-21 win over Kansas State. The sophomore is a balanced back, but showcased enough power behind him on Saturday to remind me a little bit of another famous No. 32 in burnt orange: Cedric...
AUSTIN, Texas (AP) -- Johnathan Gray rushed for 141 yards and two touchdowns, David Ash threw a 63-yard touchdown pass and Texas beat Kansas State 31-21 Saturday night in the Big 12 opener for both teams. Gray became Texas' first 100-yard rusher on the season and Texas' defense, pushed around in two consecutive losses, put up a solid and energetic performance, forcing three...
WTH?! (What the Heck?) moments are attempts to find the memorable and the off-beat perspective on Longhorns sports. Here are some interesting moments from the Texas game against the Kansas Jayhawks. Pre-Game WTH Lawrence?! Some of the Longhorn players saw more fans at their high school playoff games than the 40,097 that were in attendance at this game. Interesting note that the...
MORE STORIES >>
College Football News

Delivered to your inbox

You'll also receive Yardbarker's daily Top 10, featuring the best sports stories from around the web. Customize your newsletter to get articles on your favorite sports and teams. And the best part? It's free!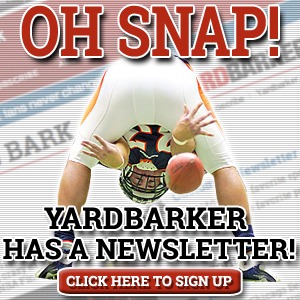 THE COLLEGE FOOTBALL HOT 10