The dirty trick played on Jon Embree wasn't when he was fired at Colorado this week. It came when he was hired. He thought he had gotten the job of digging out a once nationally relevant program. Nope. He was hired because he was cheap, he was a former star CU player who had ties to the great-old days and he was black. "It was never about me doing it again,''...
Jon Embree spent four years in Boulder as Buffaloes football player in the 1980s and prior to accepting the head coaching position in 2011, he previously spent ten seasons on the Unversity of Colorado coaching staff.  He was considered a lifetime Buff with deep ties to the CU community but a 4-21 record in two seasons led to his dismissal this week. As a respected member in the...
Four days after Jon Embree was fired as Head Football Coach of the Colorado Buffaloes the country is still buzzing from the ongoing debate about the level of racism involved in hiring decisions in College Football.
The firing of football coach Jon Embree is slowly becoming a PR nightmare for the University of Colorado. The school believed that they would just fire their second year coach after he amassed a two-year record of 4-21 and quietly move on to their new coach. But the firing has been anything other than quiet for the university. Things began to head south for the university when an...
BLACK AND WHITE ISSUE
A former Colorado head coach believes that racism was at play when Jon Embree was fired by the school after two unsuccessful seasons.
Jon Embree looked like he was outgunned from the word "go..." Looked like he was undermanned, undergunned, under-resourced, and left to run one of the college football programs that seems to be left to rot in a new conference... Every presser looked like his dog was kicked and he was ready to turn in his car for a smaller model on the lot... He thinks he got jobbed...
Colorado head coach Jon Embree was fired earlier this week after a 1-11 season, which is the worst year in the history of Buffalos football. In two seasons as the head coach at Colorado, Embree compiled an incredibly disappointing record of 4-21. A former tight end coach for the Kansas City Chiefs and Washington Redskins, it is now obvious that the Colorado alumnus was in no way...
In a bit of a surprise, Colorado decided to end Jon Embree's tenure after just two years in Boulder. Although Embree didn't show much progress, he...
A choked-up Jon Embree suggested Monday that the only way he could have turned around the University of Colorado's flailing football program in his two years as head coach was to take shortcuts in the classroom and on the recruiting trail. ''If you just hire the next guy and say you've got two years, keep your fingers crossed,'' Embree said at his farewell...
Jon Embree tells The Associated Press he has been fired as coach of the University of Colorado football team. Embree said he was heading into a meeting with his players Sunday night and didn't want to comment on his firing other than to confirm he'd been let go by athletic director Mike Bohn earlier in the day. The Buffaloes just competed the worst season in the 123-year...
MORE STORIES >>
College Football News

Delivered to your inbox

You'll also receive Yardbarker's daily Top 10, featuring the best sports stories from around the web. Customize your newsletter to get articles on your favorite sports and teams. And the best part? It's free!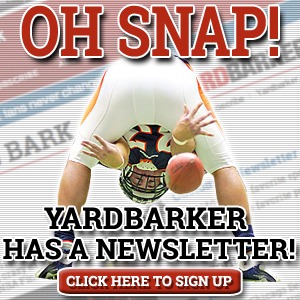 THE COLLEGE FOOTBALL HOT 10