Auburn senior cornerback Jonathon Mincy was arrested Friday and charged with second-degree marijuana possession, as first reported by the Dothan Eagle. Mincy was a backseat passenger in a vehicle pulled over by Henry County law enforcement for doing 92 in a 65 miles-per-hour zone near Abbeville, Ala., county sheriff William Maddox told the Eagle. Per Maddox, Mincy was found with...
Report: dothaneagle.com, Auburn defensive back Jonathon Mincy was arrested and charged with second degree marijuana possession Friday night near Abbeville, according to Henry County Sheriff William Maddox. Maddox said Mincy, a senior in eligibility at Auburn, was a passenger in the backseat of car that was pulled over by a Henry County Deputy for speeding Friday.  Maddox added,...
Irony can be a beautiful thing, but it can also be the bane of a person's existence. For example, the bad guys appear to get away with the treasure only to be busted by the authorities for something else entirely when they try to leave the country. It is pretty much all about a contradiction of some sort--much like the one Auburn defensive back Jonathan Mincy is living through...
How ironic. Let's start from the top of this story regarding Auburn senior defensive back Jonathon Mincy. Mincy was was seen along with several other Tigers teammates speaking to little kids at a D.A.R.E.. camp. Auburn posted about it in a tweet a few days ago. Check out who spoke to over 200 youth at today's D.A.R.E camp put on by Auburn Police – pic.twitter.com/Lj5GrDgVoh...
Oh these wacky kids and their, well, wacky weed. The latest player to set the "Days Without An Arrest" ticker back to double zeroes is Jonathon Mincy, the Auburn defensive back who was arrested at some point Friday and charged with (gasp!) marijuana possession in the second degree. Lest the "second-degree" nature of the "crime" fool you, it's a misdemeanor. Here...
On Wednesday, Auburn Tigers defensive back Jonathon Mincy spoke in front of a large group of kids for a D.A.R.E (Drug Abuse Resistance Education) event. On Friday, irony kicked in when the senior football player was arrested and charged with second degree marijuana possession.Here's more on the story courtesy of ESPN.com:"It was a routine stop on 431 near Great Southern...
Auburn defensive back Jonathan Mincy arrested for marijuana possession after a vehicle he was riding in was pulled over for speeding. Jonathon Mincy with Auburn head coach Gus Malzahn. Via USA Today.Auburn senior defensive back Jonathon Mincy is facing charges of second degree marijuana possession after being arrested on Friday.According to The Dothan Eagle, Mincy was a passenger...
Jonathon Mincy is a good football player, but that doesn't mean he's a good teammate. During Auburn's spring game, Mincy slipped through receiver Dimitri Reese's blockers on a screen and lit him up with a devastating blow. Moncy was flagged 15 yards for targeting the receiver above the shoulders, which leads to an automatic ejection. That's right, a player was ejected...
THAT AIN'T RIGHT
I don't think I have ever heard of a player getting ejected from their school's spring game, but that streak is over now.  In a bizarre and irresponsible move Auburn defensive back Jonathon Mincy managed to get himself thrown out of Auburn's A-Day game for an illegal hit on a teammate. Mincy apparently didn't receive the memo that teams are supposed to not try and injure...
Auburn defensive back Jonathon Mincy discusses the play of the defense this spring and the emphasis on turnovers.
MORE STORIES >>
College Football News

Delivered to your inbox

You'll also receive Yardbarker's daily Top 10, featuring the best sports stories from around the web. Customize your newsletter to get articles on your favorite sports and teams. And the best part? It's free!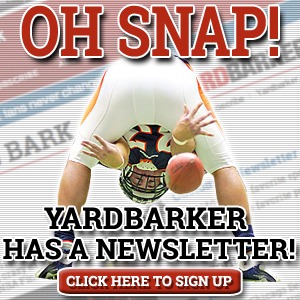 THE COLLEGE FOOTBALL HOT 10