Where's the defense?! Sure, they lost Markus Wheaton and Jordan Poyer to the NFL, but the 2013 Oregon State Beavers are still a team filled with depth and talent. So why is it that in their season opener—at home—they manage to lose to an FCS opponent. And this wasn't just a loss, it was a beatdown. Yes, OSU scored a lot of points. And it was an incredibly close game. But...
CORVALLIS - Jordan Poyer is gone, and OSU is up a creek at corner. Oh wait, that's not correct. The Beavers welcome back a stud at corner in 2013, one who likely won't be unsung for long. A position battle will take place opposite him. So what depth concerns exist, if any? And what about the rookie corners who will make their first fall camp appearances on Aug. 5, what should...
THE DEFENSIVE BACKFIELD conversation at Oregon State headed into spring will center around replacing consensus All-America selection Jordan Poyer. And one of the new pieces will be in Corvallis in the spring to try and stake an early claim. Insiders Chad Luther and Drew Wilson-McGrath take a closer look at the Beaver secondary…
De'Anthony Thomas is used to being targeted by opposing defenses. But when he was thrown down like a rag doll after the whistle early in the second half against No. 16 ranked Oregon State, the usually mild-mannered Oregon running back fired back with a stomp to Beavers cornerback Jordan Poyer's chest.
Shoring up a thin secondary On the eve of the Civil War, we've reached the conclusion of our OSU lead up to the big game. If you'd like to see the previous articles, click the links: wide receivers, defensive ends. For our final tandem, we're checking out Oregon State cornerbacks Jordan Poyer and Rashaad Reynolds. While the Beavers are known for their dominating run defense...
CORVALLIS -- A strange game transpired Saturday at Reser. The Beavers tacked on a win without Sean Mannion, Jordan Poyer and Storm Woods. How was OSU able to pull out a W sans three of their marquee starters? We have the answer…
Jordan Poyer had three interceptions, Sean Mannion passed for 270 yards and No. 14 Oregon State survived a shaky start with a 19-6 win over Washington State Saturday. Markus Wheaton had 95 yards receiving and a touchdown but it was the Beavers defense which kept the Cougars at arm's length on the day when Mannion, who threw three interceptions, was more down than up. Oregon...
A QUARTET of Beavers -- Jordan Poyer, Scott Crichton, Michael Doctor and Markus Wheaton -- are receiving preseason accolades in recently released awards lists and magazine rankings.
Stanford receiver Chris Owusu was taken from Reser Stadium by ambulance on Saturday after a helmet-to-helmet hit by Oregon State's Jordan Poyer. Owusu, who was also hit hard last weekend in No. 4 Stanford's triple-overtime victory over USC, was prone on the field for several minutes after the hit midway through the second quarter. He gave a thumbs-up after he was loaded...
MORE STORIES >>
College Football News

Delivered to your inbox

You'll also receive Yardbarker's daily Top 10, featuring the best sports stories from around the web. Customize your newsletter to get articles on your favorite sports and teams. And the best part? It's free!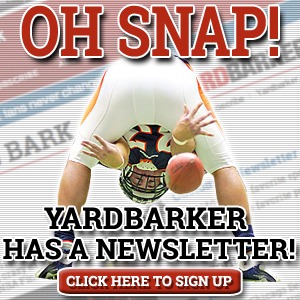 THE COLLEGE FOOTBALL HOT 10