As punter, Josh Hubner knows that even a stellar performance in this week's NFL combine may not assure him of getting drafted in April. Yet, the former Sun Devil standout feels that coming off a strong senior campaign can do nothing but aid his prospects at the professional level.
Arizona State will be represented on defense and special teams in the annual East-West Shrine Game later this month, as senior punter Josh Hubner and senior safety Keelan Johnson have earned spots on the West roster. Hubner's invitation was public knowledge in mid-December, but Johnson's did not come to light until the full rosters were announced this week. The game is to...
Punter Josh Hubner is enjoying a great year, but his impressive personal accomplishments are no comfort to him in light of his team's recent struggles. Devils Digest talked to the senior about the 2012 season and playing his last home game at Sun Devil stadium.
TEMPE, Ariz. -- Ask Josh Hubner for an opinion and hell give you three. He doesnt like people who chew with their mouths open or couples who make out in public. He views tattoos as avant-garde art, hes certain heaven and hell exist and he values hang time much more than distance. "Most often, Im considered the black sheep of my family because Im the only one with tattoos...
With the start of the 2012 season just four days away, the Sun Devils are still a team of great unknown. Inexperience on both sides of the ball, along with a number of new names to the two-deep depth chart make it anybody's guess as to what to expect from Arizona State this year. One thing is for sure though, and that's the leg of senior punter Josh Hubner.
The above is a "Declaration of Commitment" signed by Arizona State players. It's a pledge that players will act in a manner befitting to the program and that they "will speak victory everyday." ASU punter Josh Hubner recently described what "speaking victory" means. "JH: It's a collection of things. Like what I just went over about...
MORE STORIES >>
College Football News

Delivered to your inbox

You'll also receive Yardbarker's daily Top 10, featuring the best sports stories from around the web. Customize your newsletter to get articles on your favorite sports and teams. And the best part? It's free!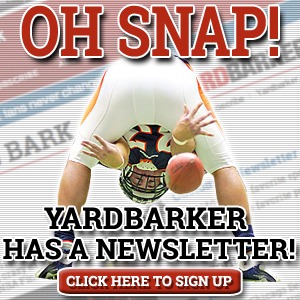 THE COLLEGE FOOTBALL HOT 10