One of the many great games we will see this opening weekend will be Fresno State matching up against USC. After both finishing last year with atleast 10 wins, USC at 10-4 and Fresno State at 11-2, these two teams will look to set the tone for another winning year. The last meeting between the two was in last years Las Vegas Bowl as the Trojans rolled over Fresno State 45-20. As...
If you haven't heard of USC cornerback Josh Shaw's heroic story, and admitted lie, you should look into it. While the school and police try to sort out what happened, we've got some ideas on how Josh Shaw REALLY sprained those ankles. #8: Breaking Into His Girlfriend's Apartment Source: Cleveland.com This sounds like what may have actually happened, as it's breaking on...
Twitter/@ThePeristyle On Tuesday, we learned that USC senior defensive back Josh Shaw may have made up a story about how he injured both of his ankles. According to Shaw, he injured them while he was rescuing his nephew from drowning at a family event. However, Trojans head football coach Steve Sarkisian told reporters that there were reports that contradicted his captain's description...
TweetEarlier, it was reported that USC Trojans defensive back Josh Shaw injured his ankles after he supposedly leapt from the second story balcony to rescue his drowning nephew. But according to a USC law school alum, Shaw was hurt while trying to escape police after a domestic dispute: Unfortunately, my sources are saying the Josh Shaw story is fake… no rescue. Still waiting on...
On Monday, we learned that USC captain and senior defensive back Josh Shaw sprained both of his ankles after jumping off of a balcony so he could save his 7-year-old nephew from drowning at a family party. It was a fantastic story of how a young man put family ahead of everything, even his senior year on the football field. There's just one problem: it may not be true. During his...
Josh Shaw is a 5th year senior, starter, and was named team captain for the USC Trojans this year.  He is expected to be a big part of their secondary.  After Saturday night, he can add "Hero" to his resume. Per the USC Website: While attending a family social function at his cousin's apartment in his hometown of Palmdale, Shaw looked on from a second floor balcony to the...
Is Josh Shaw's story of rescuing drowning nephew true? USC Trojans coach Steve Sarkisian has received calls questioning it.
TweetIf there's any reason for a player to get injured away from the field, this would be at the top of the list. Josh Shaw, a defensive back and team captain for USC, hurt his legs after he leapt from a second story balcony to save his nephew from drowning. Here are details, courtesy of USC's website: While attending a family social function at his cousin's apartment in his...
Twitter/@ThePeristyle Injury news is never good, especially when it comes from a player doing something heroic off the field. USC senior cornerback Josh Shaw, who was just selected as a team captain, suffered two high ankle sprains and is out indefinitely after rescuing a young nephew who does not know how to swim from a pool. USCTrojans.com has the full story: While attending a...
USC cornerback Josh Shaw is a true hero in life. The senior risked his life to safe a nephew that was drowning during what the official USC website indicates was a social family function. And the details of the incident are mind blowing (via USCTrojans.com).  While attending a family social function at his cousin's apartment in his hometown of Palmdale, Shaw looked on from a...
MORE STORIES >>
College Football News

Delivered to your inbox

You'll also receive Yardbarker's daily Top 10, featuring the best sports stories from around the web. Customize your newsletter to get articles on your favorite sports and teams. And the best part? It's free!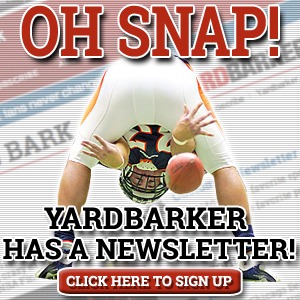 THE COLLEGE FOOTBALL HOT 10