Former Michigan cornerback J.T. Floyd reflects upon his career and discusses overcoming adversity, his preparation for the upcoming pro day in Ann Arbor, the high regard he has for the Wolverines' young crop of receivers, and much much more.
While Michigan senior cornerback J.T. Floyd was getting suspended from participation in the 2013 Outback Bowl for the ever-vague "violation of team rules," a video surfaced of him dancing to Soulja Boy's "Crank That." I'm not going to say this is bad, but America's Best Dance Crew it ain't.  No word if there's a connection between...
Suspended Michigan senior cornerback J.T. Floyd had released a statement apologizing for his recent suspension  from the Jan. 1, 2013 Outback Bowl. The suspension, for the ever-vague "violation of team rules" effectively ends his college football career. Part of the apology includes the following: "I would like to take this opportunity to apologize to the University...
Michigan suspends three players for the Outback Bowl and this should help the Gamecocks. The three players are defensive back JT Floyd, punter Will Hagerup and linebacker Brandon Hawthorne. All three were suspended for a violation of team rules. The university has not disclosed the nature of the violations, but the following statement from Michigan head coach Brady Hoke was released...
The Michigan Wolverines are going to enter their Outback Bowl Game on January 1 a bit short handed against the South Carolina Gamecocks, following the suspensions of three players for bowl game, including a pair of starters. The Wolverines have suspended starting cornerback J.T. Floyd, starting punter Will Hagerup and linebacker Brandin Hawthorne for the New Year's Day Outback...
Probably the last time we see Hags in a Michigan uniform. Via UM media relations: Michigan football senior cornerback J.T. Floyd (Greenville, S.C./J.L. Mann), senior linebacker Brandin Hawthorne (Pahokee, Fla. (Pahokee) and junior punter Will Hagerup (Milwaukee, Wis./Whitefish Bay) have been suspended for the Outback Bowl game against South Carolina for a violation of team...
A South Carolina native, Michigan senior cornerback J.T. Floyd is already hearing plenty of bowl-related 'talk' from back home, and he expects to hear even more as the Wolverines prepare for a matchup with the Gamecocks on New Years Day.
Michigan senior cornerback J.T. Floyd is being counted on even more than before after the season ending injury to sophomore Blake Countess. Floyd talks about his relationship with Countess, advice he's receiving, and preparing for UMass this Saturday.
Michigan fifth-year senior cornerback J.T. Floyd is a big fan of watching movies on his computer.  You could say it's an obsession.  So much of an obsession that he'll even take his computer into the bathroom with him and watch from the shower. Now, get your mind out of the gutter. The "movies" that Floyd can't get enough of are actually films of Michigan games and practices...
Michigan senior cornerback J.T. Floyd is looking forward to big senior season. GBW caught up Floyd at Michigan media day as he talked about playing Alabama, the Tide's wide receiver corps, the impact of Coach Mallory, his relationship with Blake Countess, and more. ***video interview included***
MORE STORIES >>
College Football News

Delivered to your inbox

You'll also receive Yardbarker's daily Top 10, featuring the best sports stories from around the web. Customize your newsletter to get articles on your favorite sports and teams. And the best part? It's free!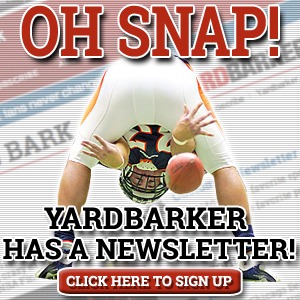 THE COLLEGE FOOTBALL HOT 10