Watch as reporter Steve Keeley of WTXF in Philadelphia, is almost run over by a snow plow. Steve holds his own and just continues on with the shot. The incident happens around the 1:50 mark of the video below. [HT CrossingBroad] Related Posts Reporter asks whether or not Jameis Winston accuser's family is affiliated with the University of Alabama Reporter falls into river in...
This brawl during a Cuban baseball game is absolutely INSANE! The pitcher, Freddy Alvarez, let one slip and it went towards Demis Valdes head. Valdes took exception and decided to use his bat as a weapon. Somehow this fight was broken up in about 1 minute, which is amazing considering the violent way it started. [HT TheBigLead] Related Posts Big 10 baseball tournament bench clearing...
This is Garrett Deny, a wide receiver for Creeks Outlaws Pop Warner team. Look at the catch this kid made? That's impressive on any level. Congrats to this kid for making SportsCenter's Top 10. Related Posts LSU Tiger wide receiver Kadron Boone makes a spectacular catch [Updated] Northern Illinois receiver Martel Moore had a spectacular catch against Iowa [GIF] LSU receiver...
All summer long TSD will unveil our top 50 LSU football players for the 2013 season. TSD's Ben Love, Austin Cooper and Hunter Paniagua compiled the rankings. Today, coming in at number 30, is senior receiver Kadron Boone.
Following an inconsistent 2012 season, receivers Kadron Boone and Jarvis Landry head into 2013 expecting big things out of LSU quarterback Zach Mettenberger. What they have seen out of the leader of the LSU offense so far this spring is more than enough to be optimistic about.
Tweet     #6 LSU left Kyle Field in College Station, TX with a 24-19 victory over #18 Texas A&M in large part because their defense forced five turnovers. Offensively the ground game did the majority of the work but quarterback Zach Mettenberger did have a touchdown pass, mostly because of the effort from wide [...]
The LSU Tigers are on the road at Texas A&M and started the game slowly trailing 12 – 0 at the start of the 2nd quarter. The Tigers have since rebounded and one of the scoring drives involved this spectacular catch by Kadron Boone. This is easily the best throw LSU quarterback Zach Mettenberger has made this game and possibly this season. What a spectacular grab! HT TheBigLead
After nearly leaving the program in the offseason, veteran wide receiver Kadron Boone wants to make more noise in the Tigers' passing game this season .
MORE STORIES >>
College Football News

Delivered to your inbox

You'll also receive Yardbarker's daily Top 10, featuring the best sports stories from around the web. Customize your newsletter to get articles on your favorite sports and teams. And the best part? It's free!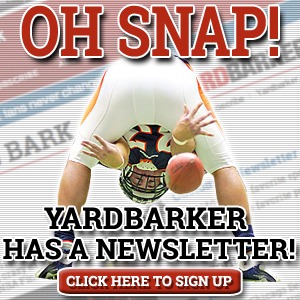 THE COLLEGE FOOTBALL HOT 10